Will Ric Griffin be found guilty of medical manslaughter?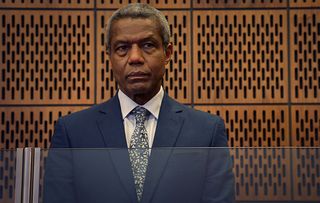 (Image credit: BBC)
As his day in court arrives, could Ric be heading for jail?
It's judgement day for respected Holby consultant Ric Griffin as he's up in court accused of gross negligence manslaughter following the death of his patient Elaine Warren from sepsis late last year.
With Ric (Hugh Quarshie) standing nervously in the dock, colleague Serena Campbell arrives to support her friend from the public gallery. As nurse Donna Jackson (Jaye Jacobs) is the first to be called up to give evidence, it's revealed in flashback how events unfolded on that now fateful day…
With AAU dealing with a major incident on the day in question, all staff – including Ric – are already at breaking point. But what was so urgent that Ric had to leave the busy ward and his patient for three hours? And, most crucially, did he order the blood-thinning drugs before he left that could have saved Elaine's life?
Donna hopes she's convinced the jury of Ric's innocence, and is optimistic that Amira Zafar – an agency nurse on AAU that day – can back up her version of events. Donna heart sinks, though, when she discovers Amira has been called as a witness for the prosecution! Later, as the jury return to deliver their verdict, will Ric be found guilty or not guilty?
Meanwhile, desperate to no longer be Roxanna's pet patient, Ollie begs to be discharged. Will it be a case of: 'Be careful what you wish for'?
Also, as much as she tries to hide it, it's obvious Jac has eyes for Fletch. With four weeks leave still to take, will Jac make her feelings clear to him before she goes?
Get the latest updates, reviews and unmissable series to watch and more!
Thank you for signing up to Whattowatch. You will receive a verification email shortly.
There was a problem. Please refresh the page and try again.