Will Rob and Karen be foster parents again?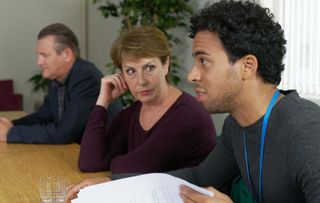 (Image credit: BBC)
Or will Rob's mental health problems stop them being foster parents in future?
Rob and Karen nervously wait outside the social services office, as they prepare to fight for their chance to be foster parents again. Things don't get off to the best start, however, when they find out that Jane has moved on and they have new social worker called Nathan. The couple are further thrown when Nathan explains that the chairperson on the inquiry panel for their case can be difficult. When Karen, Rob and Nathan enter the meeting, Karen begins by making a passionate speech about Rob's PTSD and how that will only help him relate to teenagers who have led troubled lives.
While Karen's speech seems to win the inquiry panel over, Heston's late arrival doesn't help Karen and Rob's case in the slightest. In fact, when he admits that Rob's mental health problems may impact his fostering, the panel begins to look even more concerned. With their chances of fostering looking slim, it's Rob's turn to talk. Can he convince social services that he and Karen should be foster parents again? Or will he crack under the pressure?
Finally, Zara cancels a meeting with Mrs Tembe without any explanation. What is she up to? And where is Zara going?
Get the What to Watch Newsletter
The latest updates, reviews and unmissable series to watch and more!
Tobi Oredein is an award-winning women's lifestyle journalist, media entrepreneur and international public speaker based in London, who focuses on race, feminism, beauty politics & popular culture. Tobi has been commissioned by Buzzfeed, British Glamour, Grazia, Elle UK, Fader, The Debrief, The Independent, The Pool, Stylist, Vice and others. She has also interviewed public figures such as Ryan Coogler, Ava Duvernay and Sir Trevor McDonald.