Zosia and Ollie thrown together in Holby bomb blast!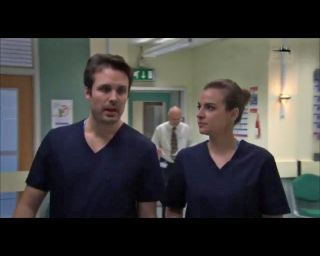 It seems to be just an ordinary day for Ollie and Zosia, who are growing closer, something that doesn't go unnoticed by Zosia's boyfriend, Seb. Meanwhile, Fletch finds Ron, the husband of a former neurological patient, wandering outside and takes him to see Guy Self on AAU. Both men get a shock, however, when Ron produces a live grenade - he blames Guy for his wife's death and wants revenge. Guy is handcuffed and held hostage, forced to hold the live explosive. If he releases his grip it will explode.
Meanwhile, Zosia, Ollie and Elliot are in the middle of a heart bypass operation when the hospital is evacuated. Ollie orders Zosia to join the evacuation, but she refuses to leave the patient. However, when Zosia discovers that it's her father, Guy, who's being held hostage, she runs out of theatre to try and save him and Ollie rushes after her. When the explosion hits AAU, Ollie and Zosia are thrown on the floor, covered in dust and rubble. Caught in a tense moment, they kiss! Is Zosia's love life about to get very complicated?
Also, Dom thinks he's being tested when he has to treat a man who's already suing his last doctor. Will Dom prove to Hanssen that he can handle the tricky patient?
Get the latest updates, reviews and unmissable series to watch and more!
Thank you for signing up to Whattowatch. You will receive a verification email shortly.
There was a problem. Please refresh the page and try again.