A Million Little Things season 5 episode 4: Eddie and Theo have an overdue talk
Get ready for some emotional callbacks.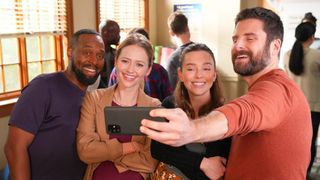 (Image credit: ABC/Darko Sikman)
NOTE: this post contains spoilers for A Million Little Things season 5 episode 4, "A Bird in the Hand."
The fourth episode of A Million Little Things' final season is emotional on a lot of different levels, with Maggie (Allison Miller) and Gary (James Roday Rodriguez) providing the only sense of fun to break it up. Fans will have to watch as an old wound is opened once again with the mention of Jon (Ron Livingston) and Walter's (Lou Beatty Jr.) condition becomes more real.
Greta takes care of Theo alone
With Greta (Cameron Esposito) officially moved in, she has her first morning with Theo (Tristan Byon), which she is determined will go perfectly. However, after a bird gets hurt on her watch, she takes the animal to the vet with Theo and Eddie (David Giuntoli). It's clear the younger boy is attached and invested in its recovery, but unfortunately, the doctor shares there is nothing else they can do and she will have to be euthanized.
This news sends Theo into a spiral before he compares them giving up on the animal to Jon's suicide, remembering Eddie saying the sentiment that Jon gave up the night his friend died. Eddie takes the time to break down the truth of Jon's death to his son, explaining that Theo's uncle had depression and the situations are completely different. Greta reassures the boy that putting the bird out of its misery is the best thing they can do.
He eventually agrees, saying his goodbye to the animal before finding a nest with her babies back at home. Greta promises they'll take care of them together.
Maggie and Gary go to birthing class
Gary has one goal in mind when attending a birth class with Maggie: to find another couple to be friends with. While his first attempt blows up, he lands on Evan (Ty Barnett), a standup comedian, and Claire (Johanna Braddy), who is a professor at MIT. He spends the rest of the class trying to convince Maggie they're a perfect choice, even Googling them to show her. She does actually end up clicking with Claire, who knew Maggie from her show.
Everything seems perfect until they get home and Maggie brings up the idea of an at-home birth, which Claire is doing. The plan clearly hasn't won Gary over, who wants to have their baby in a hospital. This will definitely be a source of tension in the following episode and possibly even until the day of their child's birth.
Walter's big move
After forgetting why he set an alarm, Walter nearly sets his kitchen on fire while making breakfast. Luckily, Regina (Christina Moses) puts it out before any real damage could be done. But that leads to she and Rome (Romany Malco) interviewing home health aides for the older man. They find an amazing choice, but his meeting with Walter isn't successful, causing him to walk out after watching some golf.
Rome decides there's only one option left: Walter will move in with him and his wife. With Tyrell (Adam Swain) at college, they have an empty room, making it a perfect solution for the time being, even if it is sure to be anything but easy as they all adjust to the new living arrangement.
This not only drastically changes where the storyline is heading, but it also makes it that much more relatable to viewers who have been through something similar with a loved one.
Sophie's quest to find Joseph
Continuing her search from season 5 episode 2, Sophie (Lizzy Greene) is determined to find Joseph, who is actually named Alex Joseph. She discovers a place people go after the city clears an encampment, showing a video of them to a man who clearly recognizes Alex. He later reveals he was there, but was taken away in an ambulance.
Regina (Christina Moses) and her call the hospital, only to find out that Alex has already passed away. The news clearly devastates them both, causing them to wonder how many other people die alone in this way with no one even realizing it. They decide to make sandwiches to go back with and hand out to those staying there, wanting to make some sort of difference.
This leads to Regina running into Dustin, who was a regular at her restaurant back in season 3. In case viewers forget, they add in a flashback of him explaining that his wife passed away and the year has been incredibly difficult for him. After what happened with Alex, it makes sense that she will want to help Dustin so that he gets back on his feet.
New episodes of A Million Little Things premiere Wednesdays at 10 pm ET/PT on ABC and are available on-demand on Hulu the day after they air live.
More on A Million Little Things
Get the What to Watch Newsletter
The latest updates, reviews and unmissable series to watch and more!
Sophia Soto has a passion for all things entertainment. She is a member of The Hollywood Critics Association and currently writes for The Nerds of Color. You can also see her work on What To Watch, Remezcla, Looper, Den of Geek, Young Hollywood and more. Some of her favorite shows include Grey's Anatomy, The Goldbergs, Riverdale and Roswell, New Mexico. She is a complete Marvel nerd as well!