A Million Little Things season 5 episode 3: Maggie and Gary have a night out
It's time for one last hurrah before the baby's arrival.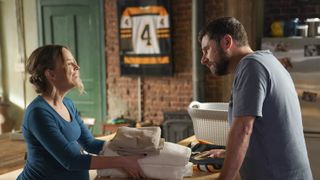 (Image credit: ABC/Darko Sikman)
NOTE: this post contains spoilers for A Million Little Things season 5 episode 3, "In the Room." Catch up with our recap for A Million Little Things season 5 episode 2.
The third episode of A Million Little Things' farewell season is the perfect mix of drama, revelations and fun. What's better than seeing some of our favorite characters do an escape room together? Plus, we finally get some answers about what Eddie wants next, Walter's health and Gary's therapist.
Maggie's escape room breakdown
Heading to do an escape room, the ladies only have one goal: to beat the guys' record time. Of course, Maggie's (Allison Miller) focus is thrown out the window after receiving a phone call from Claudia letting her know that Colton not only ignored her list of replacements, but he had someone auditioning that night for her job. As soon as she shares the name, Dr. Jessica, Maggie is spiraling, but she does try her best to hide it by rushing through the game to get her phone back.
When that rushing causes them to fall into a trap, Maggie breaks down, admitting the truth to her friends, who all band together to get them out so she can go to the studio. They manage to escape, just shy of beating the guys' record, but Maggie makes it back in time to see her boss. She immediately tells him he can't hire Dr. Jessica, who chooses that moment to walk into the room.
Maggie makes the accusations that Dr. Jessica got the information for the job from Gary (James Roday Rodriguez) during their therapy sessions. But Colton shuts her down, telling Maggie he reached out to the other therapist and he will hire whoever he chooses for her show.
After Gary finds out, he shows up at his next session to let Dr. Jessica know that she will never be as good as Maggie, not giving her a chance to respond before telling her that they are out of time.
The godfather test
Who knows Gary best? Well, apparently, it's a test that both Eddie (David Giuntoli) and Rome (Romany Malco) are masters at, constantly tying their friend's game in order to win the role of godfather. However, Eddie maybe takes a ding in that department when they're sitting in the empty Bruins stadium because Eddie messed up the time of the game.
With no hockey game to watch, they all open up about what's going on in their lives, including Eddie's reveal that he is considering a return to college in order to become a licensed addiction counselor.
As for who is going to be the godfather, Gary lets them know they will be sharing the title to his son, because what's better than a band of dads? Considering Gary just lost his own father, it's a beautiful sentiment and the baby will be well taken care of.
Sophie gives someone a chance
Sophie (Lizzy Greene) spots a cute boy working at the escape room, but after a conversation, she's starting to grow nervous as she remembers how nice Peter had been before manipulating her. After they escape the room, the boy gives Sophie their group picture with his phone number on a Post-it note and asks her on a date, but Sophie says she's too busy before leaving, needing space.
Regina (Christina Moses) follows her out, asking her what's going on. It doesn't take long before Sophie opens up to her. Regina tells her that while her feelings are valid, she has to give people a chance. What Peter did to her was awful, but not every guy is going to be like that.
Sophie takes the words to heart and at the end of the episode, she makes the call, agreeing to a date for the next day.
The MRI results are in
At the beginning of the episode, we see Rome anxiously waiting for his father's MRI results. He finally receives them in the middle of the episode but keeps them to himself until that honest conversation with Gary and Eddie. He confirms what we have been fearing as soon as the storyline started: Walter (Lou Beatty Jr.) most likely has Alzheimer's disease.
In the final minutes, we see him sit down with his father, telling him that they're going to go visit an old friend of his, who works at the stadium where the Bruins play. Before the scene ends though, he starts the tough conversation of sharing his dad's results. Unfortunately, we don't get to see the rest play out, but it's easy to imagine how Walter reacts. This will no doubt be extremely difficult to watch unfold.
New episodes of A Million Little Things premiere Wednesdays at 10 pm ET/PT on ABC and are available on-demand on Hulu the day after they air live.
Get the What to Watch Newsletter
The latest updates, reviews and unmissable series to watch and more!
Sophia Soto has a passion for all things entertainment. She is a member of The Hollywood Critics Association and currently writes for The Nerds of Color. You can also see her work on What To Watch, Remezcla, Looper, Den of Geek, Young Hollywood and more. Some of her favorite shows include Grey's Anatomy, The Goldbergs, Riverdale and Roswell, New Mexico. She is a complete Marvel nerd as well!