Lockwood & Co cast: who's who in the supernatural drama
Lockwood & Co cast — a who's who guide to the eight-part drama about a trio of teenage ghost hunters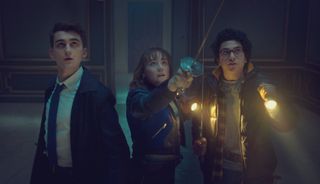 (Image credit: Netflix)
The young Lockwood & Co cast are set to risk life and limb as they battle London's scariest phantoms in this spirited new drama from Netflix.
Based on the novels by Jonathan Stroud, eight-part fantasy series is set in an alternate reality where spectres and spooks have plagued society for decades — a phenomenon known as "The Problem".
Among the agencies that have emerged to deal with "The Problem" is small independent start-up Lockwood & Co, a rebellious firm of ghost hunters run by teenager Anthony Lockwood.
Yet they're by no means the only firm looking to build a reputation for themselves. We take a look at all the most important people in Lockwood & Co...
Lockwood & Co cast — Lucy Carlyle (Ruby Stokes)
Lucy is an agent at Lockwood & Co. From the moment she's born, Lucy is possessed with an exceptional talent for Listening. She is impulsive, principled, and stubborn. After she's unjustly blamed for the deaths of her colleagues, Lucy flees her small town in the north of England and travels to London in search of a better life.
After every other door is shut in her face, she finds herself at tiny start-up agency Lockwood & Co, where she's instantly beguiled by the charismatic Anthony Lockwood and irked by his unconventional friend and colleague, George Karim. At times overwhelmed by the depth of her psychic Talent, Lucy must grapple with the responsibility that comes with being uniquely gifted in a world that desperately needs her abilities.
* Ruby Stokes opens up on "difficult" decision to leave Bridgerton *
Anthony Lockwood (Cameron Chapman)
Lockwood is the founder and owner of Lockwood & Co — the only agency in London run without adult supervision. Enigmatic, passionate, and rebellious, Lockwood's external bravura masks a deep vulnerability that comes from his traumatic past.
He's the ultimate showman and raconteur, and an exceptional agent with laser-keen psychic Sight. Lockwood gives the illusion of emotional proximity while keeping everyone at a safe distance. With George and Lucy by his side, he is utterly convinced they are destined for greatness.
George Karim (Ali Hadji-Heshmati)
George is Chief Researcher at Lockwood & Co. A genius and free-thinker, unburdened by the need to conform, George is happiest marching to the beat of his own drum.
Fiercely intelligent, wry, eccentric, and open-minded, George acts as both a field agent with a talent for Touch, and Lockwood & Co's unrivalled researcher, ensuring the company have the edge when tracking down and facing psychic disturbances.
George doesn't keep many close friends, but once he trusts you, he's loyal to a fault. He's fascinated by The Problem and obsessed with trying to understand its origins.
Inspector Barnes (Ivanno Jeremiah)
Barnes is a Senior Inspector for DEPRAC — the government organisation assigned with tackling The Problem and overseeing the country's psychical agencies. Barnes is an outsider who has fought hard for his position. He has a tough, acerbic, no-nonsense exterior which belies how deeply he feels for the young agents that fall under his command.
Quill Kipps (Jack Bandeira)
Kipps is a Team Leader for Fittes — the country's most elite psychical agency. His job is to oversee a team of teenage agents and guide them through nightly supernatural investigations. Arrogant and officious, Kipps relishes his position of authority and experience. Kipps is locked into a bitter rivalry with Anthony Lockwood and takes any opportunity to assert his superiority.
Kat Godwin (Rhianna Dorris)
Kat is an agent for Fittes, working under Quill Kipps. Sharp-tongued, confident, and supercilious, Kat is an incredibly talented Listener able to hear the bygone echoes of a ghost's psychic trauma. Kat becomes a de facto rival for Lucy, a fellow Listener. Pitched against one another on active investigations, Kat constantly tries to prove her technical superiority over Lucy.
The Golden Blade (Luke Treadaway)
The Golden Blade is a mysterious, nameless mercenary who specialises in the dark arts of high-risk, high-reward covert operations. Handsome, erudite, and terrifyingly deft in physical combat, the Blade is a ruthless villain who operates under the radar.
Penelope Fittes (Morven Christie)
Penelope is the Head of Fittes Agency — the psychical agency founded in 1972 by her mother, Marissa Fittes. Poised, benevolent and self-possessed, Penelope is a household name who commands utmost respect. In a society consumed with the fallout of The Problem, Penelope is at the apex of power, wealth, and influence.
As the daughter of the person who first discovered The Problem, and who pioneered the techniques still used by agents to this day, Penelope wants to continue her mother's legacy and ensure that Fittes remains the country's leading agency.
Flo Bones (Hayley Konadu)
Flo is a former agent who now ekes out a living on the mud flats of the Thames as a relic hunter. She was an exceptional agent, until she was profoundly traumatised on a job, causing her to quit and drop out of conventional society. Flo is wary and disillusioned with a ghost-fighting system that chews young people up and spits them out.
Highly perceptive, eccentric, and recalcitrant, Flo is Lockwood's oldest friend, the two of them having been there for one another in their darkest days. With her connections to Problem-stricken London's underworld, Flo is a secret weapon and confidante for our heroes at Lockwood & Co.
Bobby Vernon (Paddy Holland)
Bobby is an agent and researcher for Fittes, working under Quill Kipps. Bookish, precocious, and snide, Bobby is a voracious academic who scours Fittes' archives and databases to give his team an upper hand on investigations.
As a fellow researcher, Bobby is a de facto rival for George — his counterpart at Lockwood & Co. Often going head-to-head on competitive investigations, Bobby relishes any opportunity to attempt to outsmart George in a battle of wits.
Lockwood & Co. is available on Netflix from Friday 27 January 2023
Get the What to Watch Newsletter
The latest updates, reviews and unmissable series to watch and more!
Feature writer for TV Times, What's On TV, TV & Satellite Week and whattowatch.com
Sean has been writing about all things telly for over 10 years and in that time he's been lucky enough to interview stars like Ian McKellen, Tom Hardy and Kate Winslet. His favourite shows are The Great British Bake-Off, People Just Do Nothing and Succession and in his spare time he enjoys drinking tea, doing crosswords and watching football.