Lockwood & Co. season 1 episode 5 recap: Beware of the Relic Men
In Lockwood & Co.'s fifth episode, Anthony and Lucy realize the living are as dangerous as the dead as they cross paths with a network of relic men.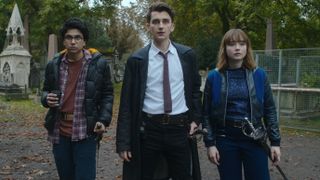 (Image credit: Netflix)
NOTE: This post contains spoilers for Lockwood & Co. season 1 episode 5, "Death Is Coming."
In Lockwood & Co.'s fifth episode, Anthony Lockwood and his team are on the case to recover the stolen bone glass but while they reunite with old friends along the way, they also make more enemies. Let's recap how the young agents manage their job in the fifth episode of Netflix's Lockwood & Co.
Race for success
Lockwood and his team are off to try and win their bet against Kipps and his crew to be the first ones to find the missing mirror. To start things off, they return to Kensal Green cemetery to have another look at the crime scene during the day. They find a Tendy's badge on the crime scene, leading them to believe an agent did this. It turns out, the thief was actually a former agent.
George is a bit distracted ever since he looked at that mirror so when Lockwood sends him to do more research, he doesn't do as he is told and follows his intuition instead, which leads him to the discovery of the dead body of a relic man (with its eyes missing) in the river near the cemetery.
DEPRAC is called and Barnes explains that whatever that man saw in the mirror made him take his own eyes out. Speaking with Lucy and Geoge, Lockwood explains he knows the victim. His name was Danny Clough, and he was an agent when Lockwood was starting out, but he asks that they keep that information to themselves for now. Now that they know who one of the relic thieves was, they need to find his partner.
New friends
The team splits up and Lockwood sends Geoge to do research at the British Archives. When he gets there, he is told the place is full but running into Pamela Joplin outside saves the day as she can pull some strings to get him in. They stay there late and Pamela eventually invites Goerge over for dinner. The two of them bond around their shared interest in the early years of the Problem and George cannot help but feel a bit left out by Lockwood and Lucy.
Meanwhile, Anthony and Lucy meet up with Flo Bones, a relic hunter who works near the Thames. She knows much about the relic underground business and they need her help, but Lucy and her don't exactly get along. Lockwood asks Flo what she knows about Danny Clough and reveals his partner was Jack Carver and tells them how to get in touch with him.
Lockwood, therefore, leaves a note for Carver on the board of the dinner where the three of them are having a drink, before asking for more information about the relic men network. Flo explains they are in business with a man called Julius Winkman, an antique dealer who works with his wife, and warns them that their whole lot is deadly.
Dangerous foes
Against Flo's advice and Lucy's own reservations, Lockwood decides they should break into Winkman's that very night to get the mirror back. Of course, that's a reckless idea and things don't go well. They run into Winkman's young son and while Lucy manages to hide, Anthony is zapped unconscious by Winkman's wife. When he comes around, he is interrogated by Julius who is quite annoyed by Lockwood's intrusion on his property. Guessing Lockwood is after the bone glass, Winkman wants to know who Anthony works for and threatens to kill him.
While Julius tortures Lockwood, his wife finds Lucy and knocks her out. Winkman decides to kill both Lockwood and Lucy, so Anthony attempts to make a deal: his life for Lucy's. However, the antique dealer does not care for that option. Lucy comes around and arranges their escape by threatening to burn the whole place down after pouring alcohol all over Winkman and his wife. Once outside, she realizes they need to hurry home because Carver will have gotten their note and must be on his way to the agency.
Back at the house, George is waiting for Lucy and Lockwood to come home and he becomes more and more enthralled by what he saw when he briefly looked at the bone glass. When Lucy and Anthony arrive, he is eager to know where they have been but they are interrupted by a knock on the door. It's Carver but he stumbles into the entrance with a knife in his back. As he lies there dying, he tells them he saw terrible things in the mirror but does not have enough time to elaborate.
Who killed Carver? What is up with George? Find out more in the next episode of Lockwood & Co., now available on Netflix.
Get the What to Watch Newsletter
The latest updates, reviews and unmissable series to watch and more!
Marine Perot is a freelance entertainment writer living in London. She has been writing about television for 10 years, which led us to work with various publications including Paste Magazine, Radio Times, Konbini, Giddy, and more. Her favorite shows include Lost, Outlander, Game of Thrones, and The Haunting of Hill House. When not writing, Marine enjoys going on adventures with her corgi and reading a good book.