Meet the Vesper cast: who's who in the post-apocalypse sci-fi movie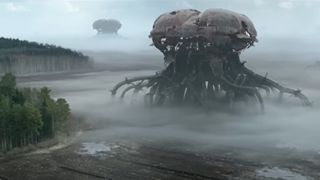 (Image credit: Condor Entertainments)
Although the 2023 Oscar nominations are taking up all everyone's talking about right now, another movie is breaking through the chat: Vesper is a 2022 sci-fi post-apocalypse movie that has slowly been growing in popularity recently.
Vesper tells the story of a 13-year-old girl (called Vesper) living in a world that's reeling from an ecological crisis; she needs to use her bio-hacking skills to try and help her people survive.
You can already catch Vesper on streaming services, as it's on Prime Video in the US via the AMC Plus Prime Video Channel (which you can find here (opens in new tab)), whereas in the UK you can watch it on Netflix.
But if you've already seen Vesper, you might be interested in who the actors are; some of them are recognizable from big movies or TV shows, and others might look familiar but you're not sure where from. Here's who's in the movie.
Raffiella Chapman as Vesper
The main character of Vesper is... well, Vesper, the clue is in the name.
Vesper is a 13-year-old girl, who lives with her paralyzed father in the woods, on the ecologically-ravaged earth. She's skilled at bio-hacking, or the process of manipulating biological matter.
Raffiella Chapman is a young actress who has already had roles in some big-name projects: she played a young Lucy Hawking in The Theory of Everthing, and starred as Claire in Miss Peregrine's Home for Peculiar Children. She's also been in Infinite and one episode of His Dark Materials.
Eddie Marsan as Jonas
Jonas is Vesper's uncle, and also the brother of Darius. Jonas leads a group of survivors who live near Vesper and Darius' house, and rules these people with an iron fist.
Of all the actors in Vesper, Eddie Marsan is the most famous. The prolific British actor played Inspector Lestrade in the 2009 Sherlock Holmes, starred in many Guy Ritchie films like The Gentlemen and Wrath of Man and played one of the main characters in The World's End.
But Marsan has a long list of blockbusters or other big-name movies under his belt including Atomic Blonde, Mowgli, Deadpool 2, Hobbs & Shaw, Vice, V for Vendetta, Mission: Impossible III and Gangs of New York.
Rosy McEwen as Carmellia
Though most of the cast of Vesper are survivors living on the ground, some well-off people live in citadels —Carmellia is one of those people. Well, until her ship crashes in the woods, leaving her at the mercy of the survivors.
Rosy McEwen is best known for her role as Libby Hatch in The Alienist and she's also been in Close to Me and Blue Jean.
Richard Brake as Darius
Darius is Vesper's dad and Darius' uncle who, unfortunately for both him and his daughter, is paralyzed and bed-bound.
That doesn't mean Darius is useless though, as he instead communicates via a giant head-like drone, which can follow Vesper around on her adventures.
Richard Brake is a recognizable character actor who's been in quite a bit. You might recognize him as the Night King from Game of Thrones but he's also in Kingsman: The Secret Servce, video game adaptation Doom, an episode of The Mandalorian and Supernatural, Mandy, Thor: The Dark World, the list goes on.
Get the latest updates, reviews and unmissable series to watch and more!
Streaming and Ecommerce Writer
Tom is the streaming and ecommerce writer at What to Watch, covering streaming services in the US and UK. His goal is to help you navigate the busy and confusing online video market, to help you find the TV, movies and sports that you're looking for without having to spend too much money.
Thank you for signing up to Whattowatch. You will receive a verification email shortly.
There was a problem. Please refresh the page and try again.