Sister Julienne — our guide to the Call the Midwife character
Everything you need to know about Call the Midwife's Sister Julienne.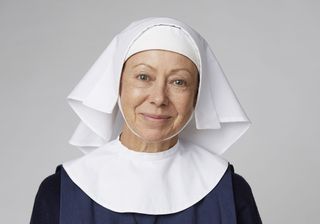 (Image credit: BBC)
Sister Julienne is the sister-in-charge at Nonnatus House in Call the Midwife. As a result of her status she is seen as the calm voice of reason for many of the nurses, and is known for being gentle, kind and empathetic.
As well as supporting her patients, she often helps her fellow Sisters and nurses through their personal crises, imparting her words of wisdom on them. Sister Julienne has a great ability to keep calm during the most stressful of situations and possesses a wonderful sense of humour.
Sister Julienne has a lucky escape at the end of series 11 when she's involved in a train crash and trapped inside the carriage alongside Dr. Patrick Turner. The impact causes Sister Julienne to experience heart attack-like symptoms and lose consciousness, but after being taken to hospital it is revealed she has just gone into shock.
Fans were relieved Sister Julienne lived to tell the tale and is back on their screens for Call the Midwife season 12.
Here's everything you need to know much the much-loved character.
Who plays Sister Julienne?
Sister Julienne is played by renowned British actress Jenny Agutter, whose career spans almost 60 years.
A former child star, Jenny has appeared in two adaptations of The Railway Children, and the critically acclaimed film Walkabout. She won an Emmy for Outstanding Supporting Actress in a Drama for her performance in The Snow Goose.
Born on 20th December 1952, Jenny married Swedish hotelier Johan Tham in 1990, and the couple have one son, Jonathan.
In 2012 the actress was appointed an OBE for her charitable services, and that same year she joined the cast of Call the Midwife, playing Sister Julienne ever since.
In an interview with KLCS Jenny said: "I never thought I'd be a nun for 10 years. I so enjoy the writing. I so enjoy the investigation of the period of time. What I love is investigating, each year that comes brings new surprises and the writing remains really good and the stories remain really good and therefore I'm held to doing it."
Sister Julienne's personality
Sister Julienne is a very compassionate person, and is always doing her upmost to support those around her.
Brimming with wisdom, she guides the other nuns and nurses as they help woman in the Poplar area.
Sister Julienne's real name is Louise, and prior to becoming a nun she was deeply in love with a man named Charles.
After walking away from him, she received her calling to become a nun. Following her faith, she committed her life to God and joined the Order, changing her name to Sister Julienne, as she's now known.
Sister Julienne's friendship with Shelagh Turner
In Call the Midwife season 2, Sister Julienne spends a lot of time consoling Shelagh Turner, who was then known as Sister Bernadette.
When Shelagh expresses doubts about her position in the Order, she was there to listen and didn't dismiss her doubts as 'just a phase'.
When Sister Bernadette choses to leave the Order, Sister Julienne is heartbroken to see her go, but her decision does not impact their friendship in any way. She gently reassures Shelagh that the other Sisters will always respect her.
If you want to catch up on Sister Julienne's time on the show, all 12 seasons of Call the Midwife are currently available on BBC iPlayer.
Get the latest updates, reviews and unmissable series to watch and more!
Thank you for signing up to Whattowatch. You will receive a verification email shortly.
There was a problem. Please refresh the page and try again.