Who is Yash Chopra? subject of Netflix documentary The Romantics explained
Who is the Indian movie director?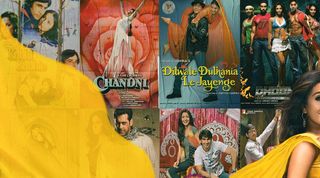 (Image credit: Netflix)
If you're a fan of the history of cinema, new Netflix documentary The Romantics is definitely worth a watch, as it'll fill you in on a Bollywood legend.
This new TV show streaming now explores legendary Indian director Yash Chopra, who won countless awards and helped steer the direction of Bollywood for many years to come.
The four-part docuseries, which was released on February 14, is partly a tribute to the director, but partly an informational dive into the legacy of this filmmaker. Chopra worked largely on romantic films, and helped pioneer the genre, hence the title of the documentary.
So if you're interested in The Romantics or have watched the show and want a spark notes version of Yash Chopra, read on.
Yash Chopra's life
Yash Chopra was born in Lahore in 1932, one of eight children, but eventually, he moved to Bombay to pursue a career in film-making.
Between 1959 and 2012 he directed 22 films with the final one, Jab Tak Hai Jaan, releasing after his death. He also produced many films, mostly his own but in the 2000s an increasing number of other people's.
Chopra married Pamela Chopra, a singer and writer, in 1970, and had two children with her, including currently-active film executive Aditya Chopra. He also set up production company Yash Raj Films which remains an influential force in Indian cinema.
In 2012, while filming Jab Tak Hai Jaan, Chopra fell ill with Dengue fever, a tropical disease. The 80-year-old director passed away a week after his diagnosis due to multiple organ failure.
Yash Chopra's films
Yash Chopra directed 22 movies over his life, beginning with hard-hitting dramas but eventually spanning into romances and musicals too.
His movies are distinct often being focused on the romantic heroine, which wasn't as commonplace at the time, and often focus on elite or upper-class characters. Chopra also made waves with Ittefaq in 1969 which didn't include songs and didn't have a break for an interval, which was very rare at the time. He's also one of the first Indian directors to use ensemble casts, rather than just one or two main characters.
Chopra took a punt on many up-and-coming actors, for example Shahrukh Khan and Amitabh Bachchan, helping them become better known in the Bollywood world.
Over the course of his career he won many awards from India's National Film Awards and Filmfare Awards, and many other accolades including an honorary membership to the BAFTA Organization.
How to watch Yash Chopra's movies
If you don't live in India, you might still find it pretty easy to watch Yash Chopra movies.
In both the US and UK many of his most acclaimed movies are on Prime Video including Veer-Zaara, Daag and Dil To Pagal Hai. His final movie Jab Tak Hai Jaan is on there too.
Get the What to Watch Newsletter
The latest updates, reviews and unmissable series to watch and more!
Streaming and Ecommerce Writer
Tom is the streaming and ecommerce writer at What to Watch, covering streaming services in the US and UK. His goal is to help you navigate the busy and confusing online video market, to help you find the TV, movies and sports that you're looking for without having to spend too much money.