Rosie Marcel: Someone will die in Holby... it might be Jac Naylor!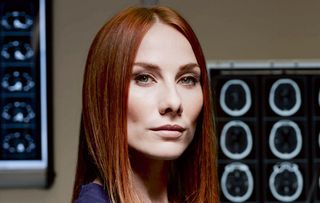 (Image credit: BBC)
As Holby's Jac goes under the knife for spinal surgery, her life is in her colleague Professor John Gaskell's hands. Rosie Marcel who plays her tells us more....
Following last year's shooting by a crazed gunman, Holby surgeon, Jac Naylor played by Rosie Marcel, has been suffering from some painful scar tissue on her spine. As her agony continues, she believes Professor John Gaskell, (Paul McGann), is the only one to help rid her of the crippling pain.
But there's a problem. Gaskell's patient, MS sufferer Fiona Fawcett, died after a nerve taken from her ankle was implanted into her spine and this week Gaskell discovers another patient, Hicham El-Arawi, has lapsed into a coma with just days to live.
Is Jac putting herself at serious risk if she goes under the knife and could there be fatal consequences?
Here Holby City star Rosie Marcel speaks to What's On TV about the dramatic storyline for Jac Naylor
What's On TV: Does Jac have any reservations about going under the knife?
Rosie Marcel: "Yes she does, she's clearly concerned about it. She doesn't think anybody should operate on her apart from the best surgeon in the world and, as far as she's concerned, that's her!"
WOTV: What are her biggest fears?
RM: "I think there's a nervousness that goes along with surgery for anybody but, for Jac, if she ended up paralysed that would be the end of her life as far as she's concerned. So I think that's her main thing."
WOTV: Gaskell saved her life when she got shot. Shouldn't she feel reassured that she's in safe hands?
RM: "I think she believes in him but I don't think she necessarily likes him. She senses there's something quite off with him but she also understands that, right now, he's all she's got and that if anybody can pull it off, he can."
WOTV: How did you find playing the patient rather than medic?
RM: "I can't bear it. It's horrible lying in a bed all day and looking like a sick person! It's difficult as well because you use your body to emote – it's harder to act lying down!"
WOTV: But isn't it quite relaxing in a way?
RM: "Yes, it's just that you tend to fall asleep quite frequently. They kept yelling: 'Cut, she's snoring again!'"
WOTV: Can you hint whether Jac pulls through?
RM: "Jac's surgery isn't going to be straightforward. Well, nothing's ever straightforward in Holby, is it? I can tell you this, though, someone's going to die and someone will come very, very close to dying. It's going to get pretty saucy pretty soon!"
Holby City is on Wednesday not Tuesday next week!
Get the latest updates, reviews and unmissable series to watch and more!
Thank you for signing up to Whattowatch. You will receive a verification email shortly.
There was a problem. Please refresh the page and try again.