Holby's Michael: 'Jac could be a great mum'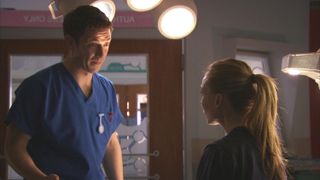 Michael Thomson reveals how Jonny is kept in the dark about Jac's shock illness in this week's Holby City...
How is your character, Jonny, feeling about Jac's recent declaration of love?
"Jonny's never heard Jac use the 'L' word before, so it's an enormous moment for them. Up til now, Jac's had him jumping through hoops, but by her saying those words and making that commitment, it blows Jonny's mind and takes their relationship in a new direction."
This week, Jac's treating a patient when a sharp pain forces her to leave the ward. Does Jonny know what's wrong?
"He knows that Jac had a kidney removed, so he immediately thinks it's something to do with that. She dismisses his fears, claiming it's just period pain, but it's clear she's hiding something from him because she secretly gets a urine test done."
Why does Jac feel she has to be secretive?
"Jac's developed these defences over the years and the minute there's a problem or she's feeling vulnerable, she shuts down. Jac's a fortress of a woman and Jonny's fascinated by that. But right now he just wants Jac to know: 'It's OK to be weak, scared or sick. I will help'."
When Jac's urine test comes back clear, she performs her own ultrasound scan and asks Serena to check it. Serena says 'the patient' may have a problem that could prevent them having children. Will Jac tell Jonny about this?
"Jonny's from a big family and Jac knows that all he wants is a secure family life. So, as well as being scared of opening up, she's afraid that he'll have second thoughts if it turns out she can't have kids."
But Jac's never been the soft, maternal type. Would it really matter that much to Jonny if they couldn't have children?
"Jonny reckons fatherhood will help him grow up. Jac's seemingly never wanted kids, but with Jonny she's dipping her toe into the waters of normality. I think Jac could be a great mum. I can't see her going to antenatal classes though!"
Holby City continues on Tuesday at 8pm on BBC1.
Get the latest updates, reviews and unmissable series to watch and more!
Thank you for signing up to Whattowatch. You will receive a verification email shortly.
There was a problem. Please refresh the page and try again.