Granny Campbell is on a mission and Luke sabotages Mandy's wedding dress in Hollyoaks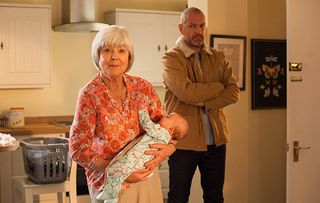 Manipulative Granny Campbell pulls Courtney's strings and Luke takes desperate action to postpone his wedding....
Scheming Granny Campbell ramps up her control over new mum, Courtney, and wants her to move back to Edinburgh with her.
However, when Courtney is reluctant she comes up with a cunning plan to pile pressure on her grand-daughter.
Meanwhile, with his divorce from his secret wife, Scarlett,  still not through, Luke desperately tries to postpone his wedding day to Mandy....by wrecking her wedding dress!
Plus, as Tom's whopping inheritance finally comes through, he's in the money and starts splashing the cash.
But sly Darcy has got other plans and is secretly planning use some of his dosh to flee the country! Will she get away with it?
Granny Campbell is on a mission and Luke sabotages Mandy's wedding dress in Hollyoaks
Granny Campbell wants Glenn to help her get control over Courtney but he's unwilling to play her games
The doting Gran adores her great-grandchild, Iona, but does she want Courtney out of the picture?
She urges Courtney to move back to Edinburgh with her but when Courtney refuses the scheming gran comes up with another plan
She arranges a another visit from the social worker but deliberately sets Courtney up to fail
The social worker is concerned when it seems that Courtney is struggling to cope with Iona
Meanwhile Courtney is beside herself and is paranoid when the social worker says she'll be back for another visit soon
Meanwhile, Mandy is horrified when she gets home only to discover her wedding dress has been wrecked!
Luke is to blame! The desperate groom has sabotaged her gown in a bid to delay their wedding day
Little does Mandy realise that Luke is ALREADY married and has been desperately trying to get a divorce
But so far he's been unable to track down his estranged wife, Scarlett, and with his wedding day to Mandy fast-approaching he's losing the plot!
A furious Mandy immediately blames Luke for ruining her dress. What will his explanation be?
Will Luke be able to buy himself some more time? And with Scarlett set to make her Hollyoaks entrance soon, is the whole wedding in jeopardy anyway?
Elsewhere, Tom can't wait to get spending his whopping great inheritance
He buys himself a flashy red car, much to Jack's delight
But there's someone who's got her greedy eyes on the teen's new fortune....
And that's Darcy!
She's secretly plotting to steal some of the loot so she can hop on a plane and take Toby abroad. However is Adam about to rumble her plans?
Having found Toby's bags packed Adam's suspicions are in overdrive and he wants to know what on earth is going on?
He sets off to confront Darcy. Are her secret plans about to be ruined and can Adam stop her going before it's too late? Watch Hollyoaks from Monday Jan 15 on Channel 4
Get the latest updates, reviews and unmissable series to watch and more!
Thank you for signing up to Whattowatch. You will receive a verification email shortly.
There was a problem. Please refresh the page and try again.