Hollyoaks' Amy and Ryan get wed but tragedy strikes when Amy is later discovered dead!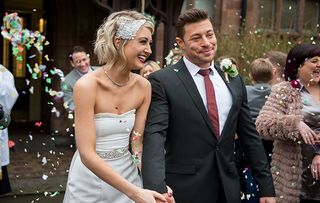 In Hollyoaks, Amy gets married to Ryan - but there is a devastating fallout when newlywed Amy is later found dead!
It's Amy and Ryan's big day but as the couple tie the knot in Hollyoaks, tragedy lies ahead…
The ceremony goes without a hitch but things start to unravel at the reception. As Amy wonders whether she should take the kids to live in America with Ryan, she's conflicted knowing how deeply it will hurt Ste to take Leah and Lucas away.
As events escalate there are tragic consequences and before long the newlywed mum is found dead! What has happened to Amy and which guilty person is to blame for her sudden demise?
It's a big day in Hollyoaks as Amy and Ryan get wed! But tragedy lies ahead…
It's a big day in Hollyoaks as Amy and Ryan get wed! But tragedy lies ahead…
Mike Barnes is a proud dad as he prepares to give his daughter Amy away on her wedding day.
In church, Ryan waits nervously for his bride to arrive.
Amy walks down the aisle on her dad Mike's arm, with kids Leah and Lucas leading the way.
Amy and Ryan lay loving eyes on each other in church as they prepare to marry in front of their friends and family.
Standing together at the altar, Amy and Ryan exchange marriage vows.
Man and wife! The happy couple exit the church and are peppered with confetti.
Lost in love, Amy and Ryan cherish each other in the happy moment.
Ryan hugs Leah, happy to be her official stepdad.
The ladies of Hollyoaks gather as Amy throws her bouquet…
… and Leela catches it!
A happy Leah and Ste watch on as the reception begins.
Speech time! The happy couple are all ears as loved ones stand up to speak about their union.
Ryan's uncle, DS Geoff Thorpe, stands up to share his thoughts on the happy couple…
Leah and Lucas watch on as their mum and Ryan celebrate their marriage.
Ryan's a happy man. He's married Amy and is excited about the prospect of them moving to America with Leah and Lucas. But the groom's joy is about to turn to devastation as his bride is later found dead… Who killed Amy? Watch Hollyoaks on C4 from Monday 27 March.
Thank you for signing up to Whattowatch. You will receive a verification email shortly.
There was a problem. Please refresh the page and try again.