10 Years Ago in the Soaps including EastEnders - Week Beginning December 8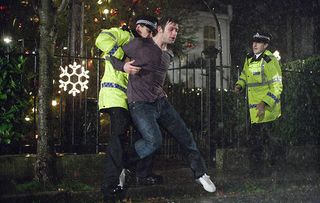 (Image credit: BBC)
10 Years Ago in the Soaps - Remind yourself of all the soap drama happening in EastEnders, Coronation Street, Emmerdale and Hollyoaks 10 years ago this week!
Tony King was arrested in EastEnders, Maria Connor got suspicious in Coronation Street, Jasmine Thomas had nightmares in Emmerdale and Louise Summers plotted revenge on Warren Fox in Hollyoaks - 10 years ago in the soaps!
EastEnders - 10 Years Ago in the Soaps
It was Whitney Dean's 16th birthday and the day the truth came out about Bianca Jackson's partner Tony King (Chris Coghill) grooming and abusing her. Whitney (Shona McGarty) confessed to Bianca (Patsy Palmer) that she had been sleeping with Tony for three years and they were planning to run away together. Tony denied it but when Bianca later heard him talking to Whitney, manipulating her and saying he'd go to prison if she didn't change her story, Bianca realised the awful truth. She called the police and they pulled up just as Tony was trying to run for it. He was arrested and driven away as Whitney and Bianca stood watching in the rain…
Since the moment her baby Amy was born, Roxy Slater (Rita Simons) had been badgered by Jack Branning to get a DNA test done. He suspected that he and not Roxy's husband Sean could be Amy's dad and he wanted to know the truth. Roxy waited until Sean was asleep before taking a DNA swab to send off and then waited anxiously for the results. When they finally came, the news was not what Roxy wanted - Sean was not Amy's dad. Worse still, the all-important results letter disappeared…
Coronation Street - 10 Years Ago this week
Maria Connor (Samia Longchambon) wasn't convinced that her husband Liam's death was a tragic accident, and when she found out that Tony Gordon had known about his wife Carla's affair with Liam her suspicions were aroused, especially when a friend joked that if that was the case then Tony would have killed Liam! Maria confided in Michelle Connor (Kym Marsh) that she thought Tony had Liam killed but Michelle was shocked and furious, reminding her she was not the only one grieving. But of course, Maria was proved right!
The peace of the Street was shattered forever when the Windass family moved in nextdoor to the Platts. Gary, Eddie, Anna and Len were not anyone's idea of the perfect neighbours and Gail (Helen Worth) wasn't impressed. After a rocky start, Gail and Anna (Debbie Rush) met and agreed to call a truce. It was an uneasy truce to say the least…
Emmerdale - 10 Years Ago in the Soaps
Jasmine Thomas (Jenna Coleman) was plagued by nightmares after she bashed dodgy copper Shane Doyle to death with a chair leg and disposed of his body in a lake, helped by Debbie and Eli Dingle. Not surprisingly, this was taking the shine off her love life and she suddenly freaked out as boyfriend Jake Doland (James Baxter) tried to kiss her and pushed him off. Jake couldn't work out what was wrong with her - if only he knew!
Gennie Walker (Sian Reese-Williams) had the voice of an angel but she felt too shy to sing with the 'Save the church' choir when they took part in a contest. It was decided that Val Pollard would mime in front of the curtains while Gennie sang her heart out in the background. But when Val suddenly had a coughing fit, Gennie came out of the shadows and gave a winning performance.
Hollyoaks - 10 Years Ago in the Soaps
Louise Summers (Roxanne McKee) was plotting fiancé Warren Fox's downfall as their wedding day got ever closer. She told Warren's spurned lover Mandy Richardson (Sarah Jayne Dunn) she was planning to marry Warren then get him sent down for Sean Kennedy's murder, but Mandy didn't want to get involved. That was, until Warren offered her five thousand pounds to leave Hollyoaks forever. Mandy was so insulted she told Louise she'd do whatever it took to bring about the demise of Warren Fox…
Hannah Ashworth (Emma Rigby) realised she was fighting a losing battle in her relationship with Elliot Bevan (Garnon Davies) when he spent more time building his precious robot than with her. He had the best of intentions when he gave Hannah a huge box of chocolates and a rose and promised her dinner. But when she turned up for their date she found him engrossed in building the robot… so she made her excuses and left!
Get the What to Watch Newsletter
The latest updates, reviews and unmissable series to watch and more!