'An attack sparks Cindy's bipolar disorder' says Hollyoaks' Stephanie Waring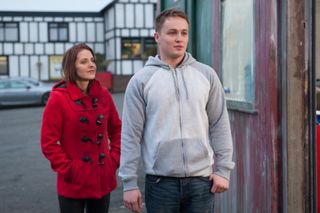 Hollyoaks (opens in new tab)' Stephanie Waring says Cindy is in the wrong place at the wrong time on the Channel 4 soap next week…
Cindy's attacked and left for dead outside the garage… How is she feeling before the assault?
"She's taking her medication and things are going well. However, after the attack, all the insecurities come out and it sparks off her bipolar issues."
What's she doing at the garage?
"She's gone to see Darren [Ashley Taylor Dawson] about a job for Jason."
Do you think she has feelings for Darren?
"Darren's very attentive after the attack and you do wonder if Cindy's heart lies elsewhere. She'll always have some feelings for him. They could always fall back into it. It would only take one word from him."
Does she have any idea who attacked her?
"No. At first, she takes it personally and she feels paranoid. But Darren suspects it was meant for him, which makes Cindy realise she was in the wrong place at the wrong time."
Is Dirk worried for Cindy?
"Dirk is and he's being the good fiance, but Cindy's not really focused on him. Something's not right with her."
Is Dirk the right man for Cindy?
"He is at the moment. He's changed Cindy in a lot of ways, but I prefer the Cindy of old. The more devious and selfish Cindy. I don't think they'll be together for ever."
What do you think of the bipolar storyline?
"It's really positive we're highlighting mental health issues and, for me, it's a great challenge."
Get the latest updates, reviews and unmissable series to watch and more!
Thank you for signing up to Whattowatch. You will receive a verification email shortly.
There was a problem. Please refresh the page and try again.