'It would finish me off if Cindy became a grandmother,' says Hollyoaks' Steph Waring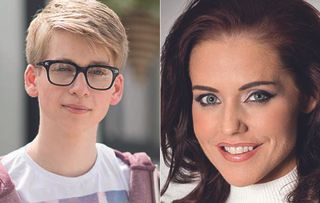 Cindy's desperate to support grieving son Alfie in Hollyoaks, but her fears that he's bipolar kick off a new family split! Steph Waring explains all to Soaplife…
Cindy Cunningham's fella, Dirk, is desperate to reunite her with son Alfie, but Alfie won't play ball as he wrongly believes his mum slept with Ellie's boyfriend, Freddie. "Cindy's wanted to bond with Alfie ever since he came back into her life," Steph Waring tells Soaplife. "But she has other loyalties as well and she can't land Marnie Nightingale [Lysette Anthony] in it over sleeping with Freddie [Charlie Clapham]."
Why does Cindy want to be a mum to Alfie (Richard Linnell) so badly? "She put him out of her mind for a long, long time and she managed to protect herself by developing a heart of stone. But he is her son and she's wanted a relationship with him ever since he came back into her life. She's older now and she's softened a lot. She wants to prove she can be there for him and make up for lost time."
Is it difficult for her to see him grieving for Jade? "Yes. Although she can be a bit thoughtless at times, she only wants the best for him. She desperately wants to help him at such a difficult time."
Why doesn't she tell the truth about Marnie sleeping with Freddie? "She has loyalties and she feels she can't do it to Marnie. Besides, she was paid off and she has no intention of giving the money back. She hopes one day Alfie will realise the truth and understand she's not that bad after all."
Does she have a strategy as far as Alfie is concerned? "No. She's just hoping he'll come to her. He does actually go and see her and she's delighted, but she worries because he says he can see Jade [Kassius Nelson] and he still talks to her."
How does she react to that? "In typical dramatic Cindy fashion, she goes into a panic and starts telling everyone Alfie is bipolar. She's afraid it could be hereditary and she thinks the worst."
Is Cindy in a good place mentally? "She is at the moment. But her little brother Tom [Ellis Hollins] is still missing, so that's on her mind a lot of the time.
What advice does OB (Darren Jeffries) give her? "He urges Cindy to build bridges with Alfie, but their relationship hits a stumbling block when he finds out she's talked to Mac [David Easter] about the possibility of him being bipolar."
Will Cindy be playing happy families by Christmas? "She'd love that because, for the first time in her life, she'd have her family around her. It means more to her than anything."
Is it weird having such grown-up on-screen children? "It is. Amanda Clapham, who plays Cindy's daughter, Holly, is 27 [Steph is 38]! I just hope the writers don't give Holly or Alfie kids of their own. It would finish me off if Cindy became a grandmother!"
Hollyoaks, Channel 4
Get the latest updates, reviews and unmissable series to watch and more!
Thank you for signing up to Whattowatch. You will receive a verification email shortly.
There was a problem. Please refresh the page and try again.