'Cleo suddenly realises the truth about Pete – it's abuse,' reveals Hollyoaks' Nadine Mulkerrin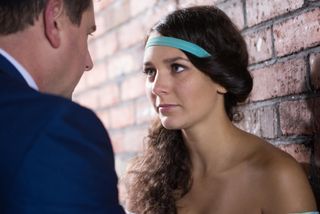 Cleo finally realises that Pete's been manipulating and abusing her for years, says Hollyoaks star Nadine Mulkerrin (opens in new tab)…
How is Cleo so blind to what Pete is doing to her?
"You have to remember Pete [Kai Owen (opens in new tab)] has been grooming Cleo since she was 13 years' old. He's manipulated her into believing what is happening between them is normal. She believes they're in an equal, loving relationship and she genuinely hasn't seen a glimpse of what is so obvious from the outside."
What did she make of Porsche's accusations?
"It was easier to ignore it and sweep what Porsche [Twinnie-Lee Moore (opens in new tab)] said under the carpet. Nobody else believed Porsche, so why should Cleo?"
How does Cleo react when the police turn up?
"She realises Reenie [Zoe Lucker (opens in new tab)] and Porsche have set up the visit and refuses to say anything. She's secretly visiting Pete in hospital and she's looking out for him. She's desperate to keep that connection going, so he still has that element of control over her."
But Harry knows she's visiting Pete…
"Yes and he tells her she has to stop. But the urge to see Pete is stronger than Harry's threats. In the end, Harry [Parry Glasspool (opens in new tab)] tells her family and that's when it all starts falling apart."
What does Pete's mystery key have to do with everything?
"Pete's hidden this key under the floorboards at home and he wants Cleo to get rid of it. It's for the lock-up he has and it contains all the materials he's kept from their relationship over the years: letters, photographs and gifts. She thinks it's lovely that he's kept these things and she can't see the true meaning behind it."
How does Cleo eventually come to realise the truth?
"She finds photos of Jade [Kassius Nelson (opens in new tab)] in among Pete's things and she goes for her at college. Nancy takes them into a classroom to talk and Jade reveals Pete called her his special girl and he bought her gifts. She's describing all the things Pete has done to her and Cleo realises it was abuse. She knows he's lied to her and she feels betrayed. When she finally realises the truth, it's really sad."
Where does Cleo go from here?
"There'll be a trial and we want to show that if you speak out, you can get justice. Cleo will go through a range of emotions. We worked closely with the NSPCC on this story and we met a group of survivors. I learned it will be a long process for Cleo."
Hollyoaks (opens in new tab), C4
Thank you for signing up to Whattowatch. You will receive a verification email shortly.
There was a problem. Please refresh the page and try again.