'Darren gambles again… to save his dad!' reveals Hollyoaks' Ashley Taylor Dawson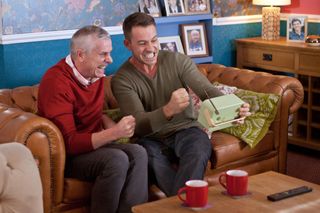 Whenever Darren gambles, his life goes to wrack and ruin. So when he decides it's all bets on to clear his dad's secret debts, he's heading back down a very dangerous road. Hollyoaks' Ashley Taylor Dawson tells all to Soaplife
How does Darren find out his dad is in big money trouble?
"Someone steals Jade's cancer fund and Alfie [Richard Linnell] gets the blame. Then Nancy [Jessica Fox] finds a note saying 'Pay up Osborne' and she thinks Darren's taken the money to gamble with."
Has he taken the money?
"No. He realises the 'Osborne' is his dad Jack [Jimmy McKenna]. That he must be in some sort of trouble."
What does Darren tell Nancy?
"He manages to get away with it. He tells her he was only having a little flutter. He doesn't want to grass up Jack and he also wants to protect Jade [Kassius Nelson]. He doesn't want her to know Jack might be corrupt when she has cancer and is going through chemo."
What does Jack say when Darren confronts him?
"He's terribly embarrassed about it. He says he doesn't owe much and that he plans to give Jade the money back."
Whose idea is it to gamble to get the money Jack owes?
"Jack needs money fast and with Darren it's once a gambler, always a gambler. Darren thinks he has a dead cert for Jack to gamble on."
Does Jack go along with it?
"It shows you how desperate Jack is to trust the son who has a gambling problem. But he has no other options and, anyway, remember this is a man who once faked his own death."
Could this get Darren back into gambling?
"That's the worry. Once he experiences the feeling of either winning or losing again, he might want to gamble more. Like all gamblers, Darren thinks he can control it… If he gets that hunger back, it could be dangerous."
Will the secret of Patrick's hidden body bring danger too?
"That won't go away. Darren's already had to confide in Nancy that he helped hide the body in the wall… and the repercussions of the whole mess are going to be quite dramatic."
Watch this story unfold in Hollyoaks from Monday 29 February on C4 at 6.30pm
Get the latest updates, reviews and unmissable series to watch and more!
Thank you for signing up to Whattowatch. You will receive a verification email shortly.
There was a problem. Please refresh the page and try again.