Ex Hollyoaks star James Sutton: 'I was nearly in Neighbours!'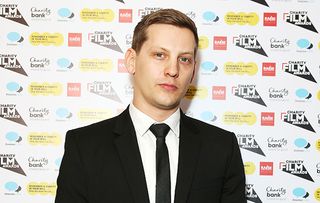 (Image credit: Joe Pepler/REX/Shutterstock)
Ex-Hollyoaks actor James Sutton talks soap crossovers, weddings, having no regrets over leaving Hollyoaks village and his gruesome new stage role.
It's a year since John Paul 'JP' McQueen left Hollyoaks for a new life in Singapore. James Sutton, the actor who played him (and Ryan Lamb in Emmerdale), would love it if JP turned up in Walford one day.
"I think it's a really interesting idea to have characters in one soap appearing in another," James told Soaplife. "Wouldn't it be great if John Paul turned up in the Queen Vic?"
He also revealed that he almost beat ex-Corrie star Ryan Thomas to Ramsay Street…
"I was in Australia on holiday last year and actually rang Neighbours to see if I could be in the background of a couple of scenes," James revealed. "John Paul in Erinsborough! It didn't happen in the end, unfortunately…"
Soaplife's interview with James Sutton
Soaplife: You're in a play right now, aren't you, James?
James Sutton: "I'm appearing in Rope at the Queens Theatre in Hornchurch, Essex from February 15 to March 3, and then we're moving to Ipswich from March 7 to 17."
S: Is it the same story as the Alfred Hitchcock film of the same name?
JS: "It's the same story, yes, although the film is set in the USA."
S: What happens?
JS: "It's based on something that actually happened in the 1920s. In the play, two well-bred young men murder a fellow Oxford student just for the fun of it. Placing the corpse in a wooden box, they then invite a group of friends over to their Mayfair apartment. But then one of their guests becomes suspicious…"
S: Oo-er! Who are you playing?
JS: "Charles Granillo, one of the murderers. It's very dark subject matter but it's a real spine-tingling thriller."
S: Do you enjoy theatre more than telly?
JS: "At the moment I do because I've spent the best part of 12 years doing telly."
S: As an actor, how you deal with the inevitable quiet times?
JS: "I'm lucky in that I haven't had that many of them. Since leaving Hollyoaks, for instance, I've been in Bulgaria filming for Channel Five, I did a couple of eps of Humans for More 4, I was in panto and now I'm doing this."
S: What's next?
JS: "I'm also very busy right now planning a wedding – my own! I'm getting married in September in Somerset."
S: You love Liverpool, don't you?
JS: " I was born in Stafford but Liverpool is home and I feel very proud to live there. It's the coolest city with such a buzz about it. I'm also an obsessive Liverpool FC fan. The club means so much to me."
S: Hollyoaks is filmed in Liverpool, of course. Do you ever regret leaving?
JS: "I don't do regrets – life is too short. It was my decision to leave Hollyoaks. It is a wicked show and I have the most amazing memories of it."
Main pic: Joe Pepler/REX/Shutterstock
Get the latest updates, reviews and unmissable series to watch and more!
Thank you for signing up to Whattowatch. You will receive a verification email shortly.
There was a problem. Please refresh the page and try again.