FIRST LOOK: Hollyoaks introduces 2 new characters – the Maaliks – in its spring trailer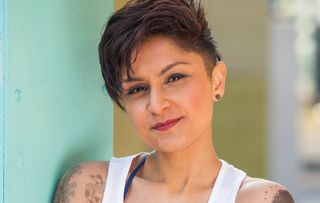 Mother and daughter Misbah and Farah Maalik will join regular Yasmine to create a new family in Hollyoaks
The Hollyoaks spring trailer has revealed two new faces: Misbah Maalik, played by Harvey Virdi, and her on-screen daughter, Farrah, played by Krupa Pattani.
Mother and daughter will join teen character, Yasmine (Haiesha Mistry) to form the Maalik family.
Krupa Pattani, who has also starred in Citizen Khan and M.I High, joins Hollyoaks as 'tigress' Farrah - a clinical psychologist who has a feisty, hilarious personality. However, she makes people gasp with her blunt honesty and she can read people like a book.
Talking about her new role, Krupa said: "I can't believe I'm getting to play such a unique and free spirited character like Farrah in such a wonderful family as the Maaliks. I am absolutely thrilled to be joining Hollyoaks."
Meanwhile, Misbah (above) may be the new consultant in emergency medicine at Dee Valley hospital and a super-mum to boot, but she's the clumsiest person you'll ever meet. You'll find her rushing out the door with her jumper on backwards and tripping up over her own shoelaces, but don't let that ketchup stain down her white coat fool you – Misbah's every inch the professional and she's never late for a shift.
Harvey Virdi, whose credits include Coronation Street, Bend It Like Beckham and The Kumars, said: "I'm really excited to be joining Hollyoaks and working with such a talented cast and crew. Misbah is quirky, super-bright and forward-thinking, and she's brought her daughters up to be strong independent women. People might say she's bossy, but I'd say she knows what she wants..."
https://youtu.be/FC2DSqZZqzk
Get the latest updates, reviews and unmissable series to watch and more!
Thank you for signing up to Whattowatch. You will receive a verification email shortly.
There was a problem. Please refresh the page and try again.