Goldie's ex Shane 'is not a good man, but he IS the love of her life', says Hollyoaks' Chelsee Healey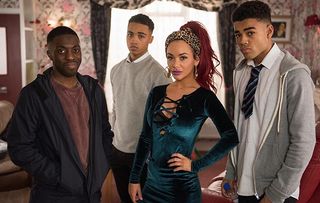 Chelsee Healey reveals the shock that Goldie gets when her ex, Shane, turns up in the village, fresh from prison
It's never dull over at the McQueens', but the place is set to get even livelier with the arrival of Goldie's ex Shane. He's been released from prison and needs a place to stay – although they could barely squeeze a hamster in the place, it's so jam-packed!
"He's a dodgy bloke," says actress Chelsee Healey, who plays Goldie. "But he is the love of Goldie's life."
Sounds like there's more trouble heading Goldie's way...
What can you tell us about Goldie's relationship with Shane? "Shane [Lanre Malaolu] is her weakness, but he's not a good man. Their relationship has been on and off over the years. He comes back and worms his way in every time, but he has never stuck around. He gives her promises, but never keeps them."
Why does she put up with him? "She feels like she can't live without him. She wants them to be a family unit and for him to be there for the boys."
We hear he steals a motorbike... "Yes, the minute he turns up in Hollyoaks, he takes a motorbike from the garage to give to Hunter [Theo Graham] and Prince [Malique Thompson-Dwyer]. Everywhere he goes he causes trouble – he is not a good role model for his sons."
What do Hunter and Prince make of him? "Hunter realises that his dad is not good and that he hasn't come back to be with Goldie and give her everything she wants. He tries to tell Goldie that he is not going to be that guy for her, but she won't listen. Prince is a different kettle of fish. He is more like his dad and looks up to him."
Does she fear her boys will end up like Shane? "Yes, there is a moment when Goldie hears Prince talking to Lily [Lauren McQueen] and he's not being very nice. He sounds just like his dad. Goldie has been on the receiving end of that kind of talk and it cuts straight through her. She doesn't want him turning out like Shane."
Does anyone warn Goldie to steer clear of Shane? "Sienna [Anna Passey] has a few words and says he is not a nice person. There is a scene where Shane lets Goldie down and reality kicks in. However, he gets round her and she cracks. It is so frustrating. It's like going round in a circle and Sienna cannot get through to her."
Are you enjoying your time at Hollyoaks? "I love it and I am really pleased that I've got storylines now that I can get my teeth into. I have had lots of lovely tweets from viewers saying how much they like Goldie and that is such a joy to me."
Hollyoaks, Channel 4
Thank you for signing up to Whattowatch. You will receive a verification email shortly.
There was a problem. Please refresh the page and try again.