Hollyoaks' Emmett on Brendan's jailbreak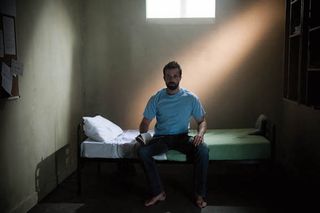 Hollyoaks' Emmett J Scanlan reveals to Soaplife that Brendan's coming back - and Silas had better watch his back when he does! Brendan could be about to get a Get Out of Jail Free card... Silas is planning to kill again on Fright Night and another Silas slaying would prove that Brendan's not the Hollyoaks killer. "Brendan's storylines are going to new levels and I'm having to push it up a gear," Emmett tells Soaplife. Just the thought of psychopath Brendan 'pushing it up' is chilling! How is Brendan finding life in prison? "He's finding it tough. He doesn't like the solitude of being in a cell and he keeps getting beaten up by Warren's henchmen. Brendan's done lots of things which warrant a prison sentence, but being put behind bars for something he didn't do is a bitter pill to swallow." If Brendan were to be released, would he go after Silas? "I hope he is - and does! I've wanted Brendan to go toe-to-toe with Silas all along. Brendan will not rest until Silas has been punished. He'll do whatever he has to. He's not afraid of him." Is he upset that Ste thinks he's guilty? "Brendan isn't too bothered about people in general thinking he's a killer. He's always been able to go out there with his chest out and head held high, no matter what people have been saying. But Ste's different. Brendan loves him and it hurts that he doesn't believe him." Cheryl seems to believe him... "She's not certain he's innocent, but the Brady law is you stand by your family members. I think Brendan believes if he tells Cheryl he's innocent she'll believe it." What have you been doing, Emmett, while Brendan's been banged up? "I've had a lot of time off. I went to Greece with Claire [Cooper, who plays Jacqui McQueen] and that was lovely. And Claire and I took my nine-year-old daughter to Alton Towers, which was awesome because I'm a child at heart." Now you're back filming. So does that mean Brendan is freed? "There's another storyline coming up for Brendan and there are going to be some very exciting scenes. The scripts are dark and funny." Will his time in prison change Brendan? "Yes. If you thought he was unstable before, wait until you see him after jail time. He'll be more dangerous than ever!"
Get the latest updates, reviews and unmissable series to watch and more!
Thank you for signing up to Whattowatch. You will receive a verification email shortly.
There was a problem. Please refresh the page and try again.