Hollyoaks' Kieron and Parry talk 'Starry', topless scenes and who the Gloved Hand Killer is! (VIDEO)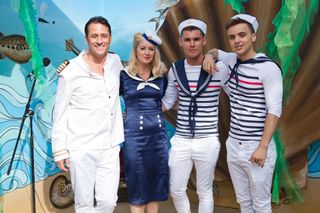 Hollyoaks is celebrating its 20th anniversary with a week of must-see episodes, and things are really heating up between the village's secret lovers, Ste and Harry.
Trouble is, Harry's dad, Tony, still has no idea the student has been sneaking around with his best buddy, Ste. And then there's Ste's estranged hubby, John Paul, who is still in love with him. Complicated!
"One minute it's Harry chasing after Ste. Then Ste realises, 'Actually I really love him.' So it's Ste chasing after Harry," says Kieron Richardson, who plays Ste. "Every episode, there's a twist of their feelings."
We caught up with Kieron and co-star Parry Glasspool to get the gossip on the 20th anniversary episodes, who the Gloved Hand Killer could be and whether Parry minds getting his kit off for the soap's sexy scenes!
"When you first get your scripts it's a bit weird," says Parry, who plays Harry. "But you get used to it after the first 10 times! It depends how in shape you're feeling on the day. You do get a bit self-conscious, but it's fine now."
Kieron adds: "To be fair, if you had a body like that you wouldn't mind getting your kit off. It's kind of inspired me to go to the gym more because I felt ridiculous next to Parry without my top on. But I'm slowly getting there!"
Don't miss Hollyoaks's 20th anniversary week from Monday, October 19 on Channel 4. Watch our interview with Kieron and Parry, above. "]
Get the latest updates, reviews and unmissable series to watch and more!
Thank you for signing up to Whattowatch. You will receive a verification email shortly.
There was a problem. Please refresh the page and try again.