Hollyoaks' Nikki Sanderson: 'Patrick hits Maxine after he sees her on community service'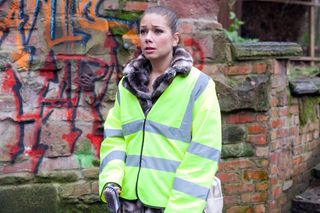 (opens in new tab)Hollyoaks' Nikki Sanderson (opens in new tab) reveals to Soaplife that terrified Maxine's in big trouble with Patrick - again...
It's hard to picture Maxine the way she was when she first arrived in Hollyoaks. Thanks to Patrick, that bubbly, independent young woman is long gone and in her place is a scared woman who fears there is no way out of her abusive relationship. "Things have got so bad, Maxine can't bring herself to tell Patrick she has to do community service because she lied for him in court," Nikki tells Soaplife. "She is trying to hide it and this is putting her under a lot of stress. Things are really coming to a head."
How is Maxine coping with the community service?
"She's pleased she didn't go to prison, but she's terrified of being seen. In fact, Sienna does see her, but doesn't tell Patrick."
Phew! It must be hard keeping it secret from him…
"Patrick said he would rather Maxine went to prison for a few months than do community service which would embarrass him. He has such a controlling nature that it's hard to hide anything from him. He has made sure she's tied to the house all day with the dog, doing chores for him and so on. Plus hiding a fluorescent yellow jacket from him is not easy."
Having the dog isn't easy, either, is it?
"Everyone thinks it's really sweet that Patrick has got Maxine a pet, but he's told her, 'You will have to be in the house all day', except when she's walking the dog at 7am, 1pm and 10pm. It's just another way of controlling her."
So why doesn't she just leave Patrick?
"It's not that simple. He has chipped away at her for a year and now she is a shell of a person. He bought the flat that she lived in and told her to give up her job, so she is reliant upon him financially. Her sister is in America and he has taken her friends away from her. She is isolated and has nowhere to go. And she believes him when he tells her he's going to change."
What happens when Patrick catches Maxine washing grafitti off a wall?
"Maxine is terrified. Patrick is there on a school trip and doesn't do anything in public - he gives her a cold stare and tells her he'll see her at home. When they're back at the flat, Dennis brings the dog back and hears Patrick having a go at Maxine behind a closed door. Pots and pans start crashing and Patrick hits Maxine. It's another situation she's going to have to explain her way out of."
What do you think of the ad campaign about your storyline?
"The ads are hard-hitting and effective and I'm really proud of Hollyoaks. We have heard that people in abusive relationships have called the police after seeing our adverts. The story has touched a lot of people. Some of the scenes are emotionally draining, but once I go home and watch a horror movie and have a lovely glass of red wine, I'm sorted."
Get the latest updates, reviews and unmissable series to watch and more!
Thank you for signing up to Whattowatch. You will receive a verification email shortly.
There was a problem. Please refresh the page and try again.