Hollyoaks' PJ on Doug's suicide!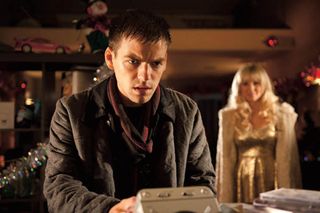 Hollyoaks hunk PJ Brennan reveals to Soaplife how desperate Doug's suicide on Boxing Day brings about the return of dearly departed Steph in a very special episode! There's not much in the way of good cheer for Doug this Christmas. He feels so down during the festive season, he contemplates suicide. But, in a special episode, which pays homage to the classic film, It's A Wonderful Life, he finds out what Hollyoaks would be like if he'd never existed. Soaplife chatted to PJ in between filming at Lime Pictures. Why is Doug feeling so low? "It's been building up since Silas killed his girlfriend Becks. Everyone is making plans for Christmas and Doug feels a bit left out. He feels as if he doesn't really belong in the village." Then a mystery woman takes his fancy... "She's called Jodie and she's a friend of Texas. As Doug is living with Tex at the moment, he gets to spend a lot of time with Jodie and they really hit it off. She's confident and vivacious and reminds him of Becks." So what goes wrong? "Doug does. He takes things the wrong way and thinks there is something there between them when there isn't. He makes a move and it doesn't go down very well. He's left feeling rejected and embarrassed." Does this lead to his depression? "It's certainly a factor. As Christmas gets closer, Doug spends more and more nights in on his own. When he gets to his lowest point, he thinks there is no alternative but to end his life." He goes to a bridge, but does he actually jump? "Yes he does, but then suddenly he's alive again and in his flat - with an angel!" The angel is actually Steph! Why does she come for Doug? "She's there for the Doug version of the film classic It's A Wonderful Life. It's part of the whole It's A Wonderful Life episode... Angel Steph takes Doug into this alternative version of what Hollyoaks would be like if he'd never come to the village." And would Hollyoaks be a bleaker place without Doug? "Well, he has been involved with a lot of characters - Riley, Ruby, Dodger and Texas to name a few. He's made a difference to their lives. In this alternative reality, some people are still there while others are not. There aren't flashbacks as such, but the Silas story comes back into play. What effect will this have on Doug? "The experience has a big impact on him and makes him see that he did have a place in the village after all. He won't be the same again. This will give him a new perspective on life and it could even make him smile."
Get the latest updates, reviews and unmissable series to watch and more!
Thank you for signing up to Whattowatch. You will receive a verification email shortly.
There was a problem. Please refresh the page and try again.