Hollyoaks' Stephanie Davis: 'When Sinead comes round, Freddie tells her Katy has died!'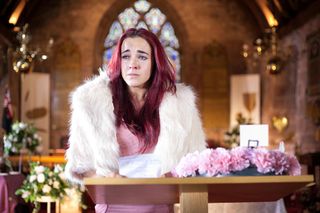 Hollyoaks' Stephanie Davis tells Soaplife that Sinead is heartbroken when Katy dies… But can she prove she didn't kill her?
Sinead hears Katy's in hospital and rushes there… What reaction does she get?
"Diane and Finn are at Katy's bedside. Lindsey thinks Katy has been poisoned, as there are abnormalities in her blood. Diane explains that Sinead hasn't been near Katy for weeks because she doesn't have visiting rights, but when Finn reveals he let her see her daughter, everyone thinks Sinead poisoned her."
How does Sinead feel about being blamed?
"She's frustrated and in despair. The police turn up with a court order preventing Sinead from seeing Katy and she's arrested. All Sinead wants to do is look after her daughter, but she's being stopped. All she has wanted is for people to take her seriously and realise that Katy is ill. Now she's frightened it has gone too far without Katy being treated properly."
What happens at the police station?
"The police give her a caution and tell her to stay away from Katy. But then she gets a worried call from Freddie who says that Katy's health has deteriorated. Sinead's desperate, so she steals a car. All she can think about is getting back to the hospital to be with her daughter. But she's involved in a crash and knocked unconscious. She's taken to the hospital by ambulance and, when she comes round, Freddie tells her that Katy has died."
That's terrible! How does Sinead react?
"Sinead collapses with grief and is in total shock. Despite everyone's lack of faith in Sinead as a mother, she loved Katy and tried to do her best by her."
She's so heartbroken, Ste finds her standing on the edge of the hospital roof…
"She is in unimagineable pain and loses sight of reality…"
How does she cope with the funeral?
"Ste tells her about the funeral because Diane and Tony organise it without her. Losing a child is the worst thing any parent can face. Sinead dreads the funeral as any mother would, but she wants to be at Katy's side."
Can Sinead prove she didn't hurt her daughter?
"Finn remembers Sinead being really cagey and hiding something in the flat when she was looking after Katy. Sinead reveals that she was hiding a video camera, but nobody believes her because it's gone missing. Hopefully the camera will be found and help prove she's telling the truth."
Get the latest updates, reviews and unmissable series to watch and more!
Thank you for signing up to Whattowatch. You will receive a verification email shortly.
There was a problem. Please refresh the page and try again.