Homeless! Will Grace come to Ste and Harry's rescue in Hollyoaks?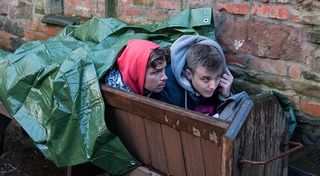 After a misunderstanding about a bag of cocaine, Ste and his boyfriend Harry find themselves booted out of the McQueen house and onto the streets of (opens in new tab)Hollyoaks!
Now what will they do?
After sleeping rough in The Folly, Ste begins to wonder if it's time Harry went home and made peace with his dad, Tony. But will Harry agree to leave his beloved Ste behind on the streets?
Help could be at hand from an unlikely person when Grace offers to pay the boys £50 if they help her find her son Curtis's favourite toy, which has gone missing. Will Ste and Harry strike it lucky and get the reward?
Ste and Harry have been in big trouble in the past, but it looks like they're really down on their luck this time. Will anyone in the village take pity on them and give the boys a place to stay?
Find out what happens in Hollyoaks from Monday, March 21 on Channel 4
Thank you for signing up to Whattowatch. You will receive a verification email shortly.
There was a problem. Please refresh the page and try again.