Ex-Hollyoaks hunk Alfie Browne-Sykes: 'The door has been left open'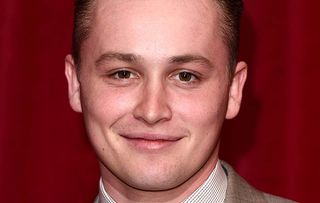 (Image credit: David Fisher/REX/Shutterstock)
Former Hollyoaks star Alfie Browne-Sykes – troubled twin Jason Roscoe – talks about a possible return to the soap and his new play.
Copper Jason Roscoe was last seen leaving the village in 2016, to start again abroad with twin brother Robbie Roscoe. Actor Alfie Browne-Sykes has talked to Soaplife about life after soap - and whether Jason could make a return!
Soaplife's chat with actor Alfie Browne-Sykes
Soaplife: What are you up to, Alfie?
Alfie Browne-Sykes: "I'm playing the character of Tipper in the new touring production of Birdsong."
S: Remind us. What's Birdsong about?
ABS: "It's set more than 100 years ago in World War One and it's based on the best-selling book of the same name by author Sebastian Faulkes. It's about the horror of war."
S: What's Tipper like?
ABS: "He's a young lad who, like many lads of the time, thought war was an exciting prospect. Tipper lies about his age in order to become a soldier. He thinks fighting will be a big adventure and a bit of a laugh with his mates."
S: But we're guessing it's not?
ABS: "No. It's only when he gets to the trenches that he realises he couldn't have been more wrong. It's hell on earth. I don't want to give too much away, but there's not exactly a happy ending for him."
S: It's 100 years since World War One ended this year. Is this a centenary production?
ABS: "Kind of. I certainly feel our tour has added significance because it's 100 years this year since the end of that terrible war. I hope the audience do, too. I like history, so I know quite a bit about the war already. But being in this gives me more of an understanding of how terrible it all was."
S: There have been quite a few tours of Birdsong over the years. Have you ever seen a production?
ABS: "Not in the theatre. I watched the BBC version in about 2012 with Eddie Redmayne. I remember watching it and thinking I'd love to be in it!"
S: The tour is almost five months long. How do you feel about that?
ABS: "It's not only my first theatre tour, but it's my very first time on stage in any capacity!"
S: What!!?
ABS: "Yes. Birdsong is the first play I've ever done, so I'm very excited and very nervous all at the same time. But, you know, I left Hollyoaks a few years ago because I was wanted to explore every avenue of acting – and now I am."
S: Would you consider a return to Hollyoaks?
ABS: "I'm not saying my character, Jason Roscoe, will never go back to Hollyoaks, but the door has been left open. For now, though, I'm happy in the theatre. I want to fufill that ambition."
S: Did Hollyoaks change your life?
ABS: "In so many ways. I was almost 18 when I got the part of Jason and joining the show meant moving away to Liverpool from London as well as moving out of my family home. I met so many different people and I had so many new experiences as a result. I remain grateful for being given the chance."
For more details of the Birdsong tour, please visit www.birdsongthetour.com
Get the latest updates, reviews and unmissable series to watch and more!
Thank you for signing up to Whattowatch. You will receive a verification email shortly.
There was a problem. Please refresh the page and try again.