Jessica Fox says Hollyoaks Come Dine With Me was the 'funniest week of my life' (VIDEO)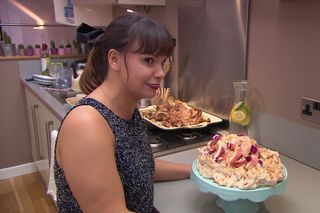 (Image credit: ITV Productions)
Fancy a sneak peak into the homes of your favourite Hollyoaks stars? You can watch the stars do battle in the kitchen in a special series, Hollyoaks Does Come Dine With Me, on E4 all next week, a series that Jessica Fox called the 'funniest week of my life'.
As part of the soap's big 20th anniversary week, Jessica Ellis (Tegan), Kirsty-Leigh Porter (Leela), Jessica Fox (Nancy), Jacqueline Boatswain (Simone), Jimmy McKenna (Jack) and Kieron Richardson (Ste) are going head to head in the kitchen.
Jessica told What's on TV: "[It] was one of the funniest, funniest weeks of my life, it was so good. There was myself, Kieron, Jess and Kirsty as the gruesome twosome, Jacqui and Jimmy McKenna, who'd never cooked a meal in his life before, so it was very entertaining. Yeah it was great, I can't wait to see it, I'm nervous to see it!" "]
Jess Ellis added: "Jimmy's cooking... Mm-mm... His dessert, I wish everyone could try it. I wish everyone could just taste that."
We're not sure whether Jess means first-time cook Jimmy excelled or repelled, but viewers can find out which when Hollyoaks Does Come Dine With Me next week.
The Hollyoaks stars will be battling it out to be crowned king or queen of the kitchen and win £1000 to donate to a charity of their choice. Watch out for an appearance from former co-star, Bronagh Waugh, who played Cheryl Brady, popping back to help out in the kitchen!
Viewers can also see the culmination of the Gloved Hand Killer storyline during Hollyoaks' 20th anniversary episodes.
Watch the interviews with Jess Ells and Jessica Fox, above.
Catch Hollyoaks Does Come Dine With Me, weeknights on E4 from Monday, October 19
Get the latest updates, reviews and unmissable series to watch and more!
Thank you for signing up to Whattowatch. You will receive a verification email shortly.
There was a problem. Please refresh the page and try again.