Can Luke win back Mandy in Hollyoaks? Here's what Gary Lucy says…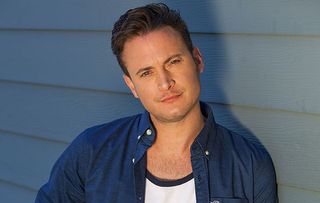 Luke's hopes of a reunion with the woman he loves are dashed in Hollyoaks. But he won't give up without a fight! Gary Lucy reveals all to Soaplife…
When Luke Morgan gets a call from Diane Hutchinson to say that Mandy Richardson wants him back, he returns to Hollyoaks in a flash, thrilled that the love of his life is willing to give him a second chance. Unfortunately, Diane's given Luke false hope…
What's the story?
"Luke's devastated because Mandy isn't interested," Gary Lucy told Soaplife. "Mandy actually wants to get her life back on track without Luke.'
What's happening in Hollyoaks? See the latest storylines
Gary Lucy reveals all to Soaplife
Soaplife: What's gone wrong for Mandy and Luke?
Gary Lucy: "Basically, Luke hasn't yet got the professional help he needs to move on from issues that have affected him deeply. He's also openly an alcoholic. He's been sober for some time, but he's never far from going back on the bottle."
S: Does he blame himself for losing Mandy?
GL: "Completely, but he just can't help it. There are a lot of reasons why he is where he is and, over the coming weeks, you'll learn more and more."
S: What's Luke's plan?
GL: "He wants to stay in Hollyoaks, get his life in order and win Mandy back. He goes for a job teaching PE at Hollyoaks High, but Mandy tries to sabotage his chances. She wants to get her daughter, Ella, back from social services and she believes it'll be easier if Luke isn't around."
S: Will Mandy and Luke get back together?
GL: "In an ideal world, yes. But this is Hollyoaks. There's some heavy stuff coming up… I'm right in the middle of it now and it's exhausting. I'm enjoying it, though, and it is justified. There's a big secret that will come out and it's the main reason why they're both back in the village."
S: Does Luke see Tony as a threat to his ambitions?
GL: "Well, Mandy was married to him, so he won't be happy to see them getting close."
S: Luke was raped in the village. Will those memories come back to haunt him?
GL: "That was one of the things he ran away from and didn't deal with properly. It all comes back to haunt him."
S: What has it been like working again with Sarah Jayne Dunn, who plays Mandy?
GL: "Lovely, like old times. Obviously, both of us are in different phases of our lives now as we have children. We did some workshops to find out why Mandy and Luke are where they are and it didn't take long to get back into character."
S: Is it good to be back?
GL: "It really is. I still have friends at Hollyoaks, in the cast and in the crew. It was one of my first big jobs and certainly one of the most memorable."
S: Do you miss your family during the week?
GL: "I do, but I see them at the weekends to do all the fun stuff like horse riding, bike riding and so on. I do the nice bits, then go back to Liverpool on Monday and my wife does the hard stuff!"
Hollyoaks, Channel 4
Get the latest updates, reviews and unmissable series to watch and more!
Thank you for signing up to Whattowatch. You will receive a verification email shortly.
There was a problem. Please refresh the page and try again.