After Nathan's death 'Tabby becomes finally a mother to Marnie,' says Hollyoaks' Lysette Anthony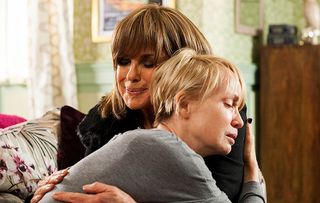 Marnie is reunited with her mother, Tabby, as the Nightingales gather to bury Nathan in Hollyoaks. But no one can save Marnie from herself…
It's Nathan Nightingale's funeral, a day that his mum, Marnie, never dreamed she'd have to live through. Marnie's mum Tabitha (Tabby) Maxwell-Brown, played by American star Linda Gray, flies in to support the family. But nothing and nobody can help Marnie.
"This is the worst thing that's ever happened to her," Lysette Anthony tells Soaplife.
What's it been like filming such a dark storyline? "It's been really emotional. I've spent weeks crying at work for eight hours a day and I look shocking. When we were filming the funeral, our designer said to me, 'Darling, you look marvellous from the neck down'!"
How did you generate such emotional intensity? "I have a son of my own, but I never imagine anything happening to him… I can't. I've gone through enough in my lifetime to be able to open some old doors and experience fresh memories of the pain."
What does Tabby's presence mean for Marnie? "Marnie and Tabby are past all the old psychological warfare now. There comes a moment where Tabby's finally being a mother. Marnie literally falls down a rabbit hole and viewers will understand how she left her kids in the first place and the history of her depression."
Will she find out about Mac's affair with Lisa? "It's inevitable she'll find out at some point. All I can say is, if and when that happens, Marnie will rocket into another stratosphere and there'll be a lot of lipstick and very expensive clothes."
Does she suspect anything? "She knows Mac [David Easter] is up to something. When she saw the camper van, she thought, 'Here we go again'. Marnie's put up with his women and turned a blind eye, but she won't be able to do that if she finds out about Lisa [Rachel Adedeji]. The revenge will be quite delicious, as you can imagine."
Isn't Marnie as bad as Mac, though? "On paper, yes, because she slept with her daughter's boyfriend. But the whole Freddie Roscoe [Charlie Clapham] thing was only a one-night stand. Mac's been quite territorial and predatory with Lisa and, whatever you think about her, Marnie is quite vulnerable."
Does she regret faking that brain tumour now? "Yes. That was a bit of Marnie naughtiness that went too far, a spur-of-the-moment thing that went terribly wrong."
Where does Marnie go from here? "For a start, she'll go back to wearing make-up, which I'm relieved about as I was looking so frightful. It's a case of son James and Marnie being back worse – or better – than ever. Greg [Finnegan, who plays James] and I have the same terrible sense of humour, so it's going to be a lot of fun."
Hollyoaks, Channel 4
Get the latest updates, reviews and unmissable series to watch and more!
Thank you for signing up to Whattowatch. You will receive a verification email shortly.
There was a problem. Please refresh the page and try again.