'Patrick wants to possess Maxine totally before he dies,' reveals Hollyoaks' Jeremy Sheffield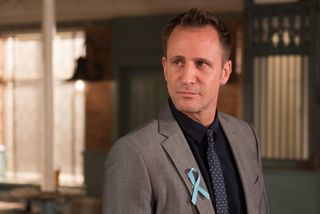 With his MND (Motor Neurone Disease) slowly taking his life, Patrick is desperate to have Maxine at his side at the bitter end, Hollyoaks' Jeremy Sheffield tells Soaplife…
How are things between Maxine and Patrick now?
"Because Maxine has offered Patrick an olive branch and agreed to share custody of Minnie, he interprets this as a sign she still cares for him. It ignites the love he's always had for her and he asks her to run away with him. He wants to possess Maxine totally before he breathes his final breath. He sells it as having a nice time in a nice place with someone he loves, but it'll probably be terrifying and dangerous for Maxine."
Why would she ever agree to go with him?
"Nikki [Sanderson, who plays Maxine] and I found in the course of our research into domestic abuse that the victim does often return to the abuser and this can go on for years. I always feel with Maxine that she's almost like an angel. She does things most of us wouldn't do because her kindness and generosity is so profound. She doesn't necessarily love Patrick or want to be with him, but she will sacrifice a lot because of those qualities she has."
Where does this leave Theresa?
"Because Theresa [Jorgie Porter] stood up for herself and sided with Darren and Maxine, in Patrick's eyes and she is now the enemy. Initially, she filled a need. He needed a carer and also wanted somebody to take Maxine's place, whom he could manipulate and control."
Darren's worried Maxine will get hurt again…
"Darren [Ashley Taylor Dawson] is a constant source of frustration for Patrick. Patrick thinks he's an uncultured imbecile, but he also feels threatened by him."
How would Patrick feel if everyone knew about his MND?
"That would be devastating for him. In Patrick's eyes, it represents weakness and he believes high status is something you achieve by dominating others."
What is in store for Patrick?
"MND will kill him eventually. There will come a point where he must give up work and that will be difficult as his job is so much a part of his identity. It's also going to get darker and more twisted with him, Maxine, [daughter] Sienna [Anna Passey] and [granddaughter] Nico [Persephone Swales]."
Hollyoaks, Channel 4
Get the What to Watch Newsletter
The latest updates, reviews and unmissable series to watch and more!