PJ Brennan: Ste and Doug can work things out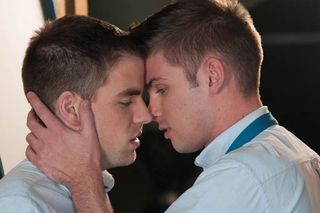 Hollyoaks actor PJ Brennan has said his character Doug Carter and Ste Hay have "a lot of hurdles to jump over" to get their relationship back on an even keel. The on-off couple have had a turbulent week on the soap, complete, with dramatic scenes at Doug's sham wedding to Leanne Holiday, played by Jessica Forrest. However, PJ said that he thinks Doug and Ste, played by Kieron Richardson, could work out their issues if they talk about them. "In a perfect world, of course, it would be really nice. I think they would be good together. There is so much history between them that they need to work out," he said. "Each character has a lot of baggage and this year's really been about both of them trying to work it out, but it's been hard work. I would like to see them together but only if it's for the right reasons - there's a lot of things that have been bubbling under the surface and have been for quite a while." "There is a big part of me that thinks it would be possible for there to be true happiness for Doug and Ste (Kieron Richardson)," PJ added. But there's a long way to go and a lot of hurdles that they have to jump to get there." And the Brooklyn native was full of praise for his co-star. "He's the best. I'm very thrown off if I don't have a scene with him in the day. We've become very good friends," PJ said. "He has the ability without the ego. He never bigs himself up as an actor, in fact he doesn't like to call himself one. But I think he's one of the most capable actors I've ever worked with."
Get the latest updates, reviews and unmissable series to watch and more!
Thank you for signing up to Whattowatch. You will receive a verification email shortly.
There was a problem. Please refresh the page and try again.