Sienna's wedding is 'a disaster from the start,' says Hollyoaks' Anna Passey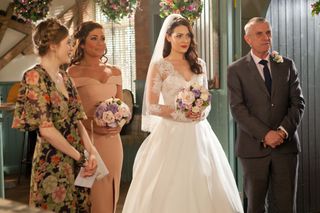 Sienna had an affair with Trevor, she doesn't love her fiance Ben, her daughter Nico's a killer… and her wedding day promises all sorts of drama in Hollyoaks!
Anna Passey (opens in new tab) describes the drama to Soaplife…
How's Sienna feeling in the run-up to the wedding?
"It's a disaster from the start. She's doing it for Nico [Persephone Swales-Dawson (opens in new tab)]. She thinks if she creates a stable family unit, she'll calm down. She's just praying she can get down that aisle, say 'I do' and smile. It will be difficult for her, especially with Trevor [Greg Wood (opens in new tab)] being there."
Could she be happy with Ben?
"She did love Ben once. But from the moment Nico killed his daughter Carly, she knew it would never work. Sienna loves Trevor now, but he's gone back to Grace."
How does Nico feel about the wedding?
"She's very happy Sienna's going ahead with it. She thinks if her mum marries Ben, they'll be a normal family."
Tell us about the moment Sienna turns up at the church?
"She walks in and she sees Ben [Ben Richards (opens in new tab)] and Trevor squaring up to one another. Ben doesn't want him at the wedding as they hate each other. Sienna's so overwhelmed, she doesn't even look at Ben. She just stares at Trevor. Part of her is hoping he'll leap out of his seat and shout, 'Stop! I love you!'"
What would Nico do if Sienna jilted Ben?
"Nico's dangerous and Sienna knows that. There are no limits to what she will do."
What are the chances of a happy-ever-after ending for Ben and Sienna?
"Nil, I think. Sienna doesn't seem capable of that. It's funny because I've seen lots of other characters in Hollyoaks get married in their nice dresses, having their hair done, and I thought it would never happen to me because nobody in their right mind would ever marry Sienna. But here I am."
What's in store for Sienna?
"Nothing stays secret in Hollyoaks and Sienna's a big bag of secrets. Grace [Tamara Wall (opens in new tab)] and Trevor have their wedding coming up and you can just imagine what would happen if Grace found out about their affair… or if Nico and Ben did. Put it this way, she isn't going to go home, unpack her wedding gifts and live a happy life."
Hollyoaks (opens in new tab), C4
Get the What to Watch Newsletter
The latest updates, reviews and unmissable series to watch and more!