'The chances of a happy ending for Porsche are slim,' says Hollyoaks' Twinnie-Lee Moore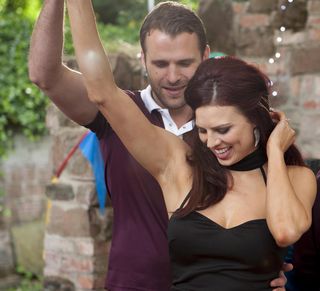 It's Porsche's birthday and Lockie's playing the loved-up husband - until he gets in the back of a van with Mercedes, reveals Hollyoaks' Twinnie-Lee Moore…
Porsche is getting closer to the truth about Lockie's infidelities… "Her marriage to Lockie is a huge shambles," says Twinnie-Lee. "And, the worst thing is, she has nobody to turn to."
How is Porsche doing at the moment?
"Not well. She's an outcast as far as the McQueens are concerned and she's upset with her mum, Reenie [Zoe Lucker], who doesn't believe she was abused by Pete [Kai Owen]. Porsche looked after her sisters and worked long hours to make sure things were OK when they were younger, and now there's a lot of anger because nobody is there for her."
Is Lockie any help at all?
"Lockie [Nick Rhys] is selfish and it doesn't help she's pushed him away. It's horrible for her to feel so alone and, unfortunately, she's gone down the alcohol route and become like her mum."
Does she suspect Lockie is cheating?
"No, but he's getting careless. At Porsche's birthday party, he sends a naughty text to Porsche, which is meant for Mercedes [Jennifer Metcalfe]. He manages to make out it was for Porsche but, later, he kisses Mercedes and they're in the background of a photo Celine [Sarah George] has taken."
Has Lockie fallen out of love with Porsche?
"No. I think it's true what they say about men being from Mars and women from Venus. Lockie's emotions and sexual feelings are different. He thinks he isn't doing anything wrong, but Porsche's morals are strong. She's very loyal and it turns out she's only ever been with him and Pete."
What happens when Mercedes and Lockie make out in his van?
"Porsche ends up knocking on the window, but she doesn't actually see that Mercedes is in there."
What will Porsche do if she sees the photo of Mercedes kissing Lockie?
"She's going to be angry. I'm hoping for a happy ending because I feel like that's what the viewers want. I don't want them to split up Lockie and Porsche. However, there are only so many times you can be dumped on before you say 'Enough is enough. I can't take this any more!'. Porsche may have reached that point."
And then there's John Paul (James Sutton), too...
"If she finds out about that, she's going to lose it big time. She'll try and hit Lockie where it hurts."
Does Porsche know Pete is abusing Cleo?
"No. She thinks Cleo [Nadine Mulkerrin] would have told her if that was the case. Pete's clever. He breaks down each girl individually and Porsche has no idea about what he's doing to Cleo. She's been like a mum to Cleo and, if she thought anything was going on with her and Pete, she'd do something about it."
Why does Porsche make a pass at Cameron (Cameron Moore)?
"She's drunk and upset. She just wants somebody to talk to."
Do you think her marriage to Lockie will survive?
"The chances are slim. She keeps going back because she'd rather be with someone like Lockie rather than be alone. It would be better for her if she left him and moved on."
Hollyoaks, C4
Get the latest updates, reviews and unmissable series to watch and more!
Thank you for signing up to Whattowatch. You will receive a verification email shortly.
There was a problem. Please refresh the page and try again.