Hollyoaks' star Theo Graham: 'I used to be called Small Fry!'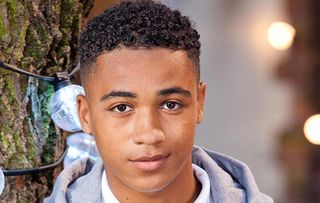 Hollyoaks actor Theo Graham, talks about what it's like playing teen Hunter McQueen, his Soap Award nomination, and his unusual school nickname!
Hollyoaks actor Theo Graham has talked to Soaplife about his Best Actor nomination at the British Soap Awards, and he explains why he was nicknamed 'Small Fry' and 'Spark Plug'!
What the story?
He may be a bit of a tough guy as Hunter McQueen in Hollyoaks, but actor Theo Graham confesses he was called Small Fry at school on account of being short. And he looks so young, he can't get served alcohol without ID, even though he'll be 21 in June. "All my mates can walk into a club with no problems," Theo tells Soaplife. "But when it comes to me, the bouncers are not having it. If I don't have my ID, then I can't get in!" Not that Theo is moaning. He knows he'll have the last laugh when all his pals start to age!
What's happening in Hollyoaks? See the latest soap storylines
Theo Graham talks to Soaplife
Soaplife: What's it like playing a 16-year-old when you're nearly 21?
Theo Graham: "It's not new to me. All the characters I've played before have been younger than my real age. People say I look 14 or 15, so I'm used to it really. I kind of embrace it."
S: Tell us about this nickname of yours.
TG: "I've always been kind of small. Right up until year 11, I was only 5ft so my nickname was Small Fry. I was really into boxing when I was young and I was so fast at punching, I got called Spark Plug. I don't have a nickname now, though, because I grew at college. I'm 5ft 8inch, which is a decent height. I'm happy with that."
S: How do you feel about being nominated for Best Actor in this year's British Soap Awards?
TG: "It took me by surprise. I really wanted to be nominated for something, but I wasn't expecting it to be Best Actor. I had to double check with them and say, 'Are you sure that's me?' I'm really happy. I feel honoured as there are some of the best actors in soap on that list. I've seen their work, so I know what I am up against."
S: Do you watch any of the other soaps?
TG: "I'm familiar with them, but I don't watch regularly. I'm on Netflix a lot. I've just got into Peaky Blinders."
S: Are you enjoying Hollyoaks?
TG: "It's been such a good experience. It's coming up to two years since I joined and it's gone so fast. You don't realise until you get a job like this how demanding it is working on a soap."
S: Did you relocate when you joined?
TG: "No. I'm from Manchester and, because I'm an only child, I'm not in a hurry to leave home. I'm close to my mum and I intend to ride it out as long as possible and stay at home."
S: Do you socialise with the rest of the cast?
TG: "Me and Malique Thompson-Dwyer, who plays Prince McQueen, get on really well. We spend a lot of time together outside of work. The crew dread it when we do a big McQueens scene on set because there's nothing but laughter. We're always cracking jokes. I'm hyper when I'm around Malique and the McQueens."
S; What other job would you do if you weren't an actor?
TG: "Acting and travel are my passions. I don't want to do anything else. Before I got the job on Hollyoaks, I worked in retail for six months. I sold trainers. I didn't hate it, but it wasn't what I wanted to do. I was quite good at selling trainers and, not so long ago, one of the cast members was looking for a new pair and I was like 'I can help you with that.'"
S: Are you single or in a relationship?
TG: "I'm single at the moment. I've just come out of a relationship, so I'm not really looking. I don't want to rush."
S: Do fans ask you out?
TG: "I do get a lot of messages on social media. Just yesterday, I got one from a schoolgirl asking me if I'd go out with her mate. I didn't take her up on it, but it's important to stay connected with the show's fans. I opened a Snapchat account to do that and I made my Instagram public."
S: You say you like travel. Where would you like to go?
TG: "I went to LA for the first time last year and loved it. I'd love to work out there. I'm off to Barcelona soon and, hopefully, I'm going back to America later in the year. I'd like to learn a language. I wish I'd paid more attention at school now! That's something I'm considering doing in my spare time."
S: If you win the Best Actor Award, where would you keep it?
TG: "I'd have to put it in a place I walk past a lot, so that I could look at it and remind myself it's real. If and when I leave home, I'd let my mum keep it!"
Hollyoaks continues on E4 and C4 tonight.
Forward Planning Deputy Manager
Rachel is a soaps and TV writer for (opens in new tab)WhatToWatch (opens in new tab).com, soaps podcaster and resident soap expert for UK TV listings magazines What's On TV and TV Times. After graduating with an art and design degree from Birmingham City University, she found her true calling in all things soap and has been writing about them for magazines and websites for over 20 years. A self-confessed soap addict, she's always had a great love of all the UK and Aussie soaps and owns everything from a Neighbours 1990 Annual to a DVD box set of classic Corrie episodes to prove it.
Thank you for signing up to Whattowatch. You will receive a verification email shortly.
There was a problem. Please refresh the page and try again.