Joanne makes a false accusation against Louis!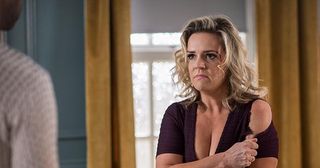 The unhinged lawyer Joanne Cardsley wants revenge on Louis Loveday for his part in Joe's death in Hollyoaks
Joanne Cardsley is still reeling from the grisly death of Joe Roscoe and the part she played in his demise on the Ferris wheel in Hollyoaks.
Distressed and emotional, she decides to unleash her grief and anger on Louis Loveday, who turned Joe against her in the run up to his death.
What bitter revenge plan has she got in store for Louis...?
Joanne recruits Hunter and Prince to ensure that Louis is suspended from his job, but she's not finished with him yet...
When Louis goes to see James to get legal advice over his divorce and suspension, Joanne interrupts their meeting looking beaten up and bloodied.
She frames Louis and accuses him of attacking her, even though she's secretly inflicted the injuries on herself.
With Louis and Joanne alone, she tells him she's going to make him pay!
With Louis and Joanne alone, she tells him she's going to make him pay!
Louis should be very scared indeed as his bitter ex prepares to do her worst.
What new punishment is the unhinged lawyer going to dish out? And should other villagers be fearing for their safety? Watch Hollyoaks on Channel 4 from Monday, November 28
Get the latest updates, reviews and unmissable series to watch and more!
Thank you for signing up to Whattowatch. You will receive a verification email shortly.
There was a problem. Please refresh the page and try again.