Kim is blackmailed into snatching JJ in Hollyoaks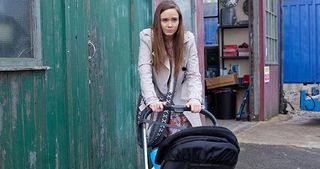 Kim is forced to do Sienna's dirty work...
HO-TX-03_05_16
Sienna orders Kim to get her mitts on JJ, or else!....
HO-TX-03_05_16
Esther knows that Kim wants to spend time with JJ so she tries to persuade Joe to let her see him. Kim makes her way to the garage...
HO-TX-03_05_16
She sees Joe and Freddie busy at work while little JJ is in his pram crying...
HO-TX-03_05_16
She starts to wheel the pram away, but is stopped by Joe... Gotcha!
HO-TX-03_05_16
But when Joe and Freddie get a call about a plumbing emergency and are suddenly distracted...
HO-TX-03_05_16
...quick as a flash Kim darts in and makes her move. Sly! Off she scarpers with JJ. Is anyone going to stop her? Watch Hollyoaks on Channel 4 from Monday, May 2
Get the What to Watch Newsletter
The latest updates, reviews and unmissable series to watch and more!