Lisa and Sonia come face to face in Hollyoaks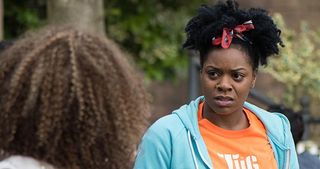 Sparks fly as Lisa comes face to face with her imposter in Hollyoaks
HO-TX-02_05_16
Caught in the act! Sonia's eyes are on stalks when she comes face to face with the real Lisa Loveday....
HO-TX-02_05_16
Sonia has a lot of explaining to do when the real Lisa flees from the Lovedays and bumps straight into her imposter
HO-TX-02_05_16
...not surprisingly Lisa's not really in the mood for listening
HO-TX-02_05_16
Lisa's about to to rip her fake namesake to shreds for stealing her life, until Zack leaps in to pull the two girls apart
HO-TX-02_05_16
Zack tries to persuade Lisa to come back home with him so they can sort everything out...
HO-TX-02_05_16
Good luck with that! Lisa reluctantly agrees, but the Lovedays are shocked when she hits them with a curve ball. Watch Hollyoaks, Channel 4, from Monday, May 2
Get the What to Watch Newsletter
The latest updates, reviews and unmissable series to watch and more!