It's Luke and Mandy's Big Day but is Scarlett about to wreck it?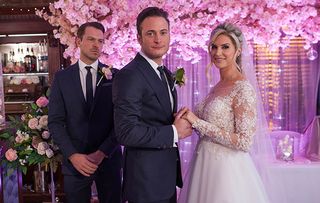 As they prepare to tie the knot, Luke's current wife, Scarlett is hovering in the wings!
It's Luke and Mandy's Big Day but the groom is an anxious wreck as he prepares to say I do, thanks to his ex Scarlett lurking in the background.
Bride-to-be Mandy has no idea that he is still married to Scarlett and no clue that the couple have a teenage son, Oliver together. Eek! [Check out the latest Hollyoaks storylines]
Ahead of their nuptials, a frantic Luke arranges to meet Scarlett but he's in more of a spin when she demands cash for her silence. Either he pays up or she will totally sabotage his wedding to Mandy.
Stuck between a rock and a very hard place, what will jittery groom decide to do?
Wedding catastrophe? It's Luke and Mandy's Big Day but is Scarlett about to wreck it?
Ahead of his Big Day, Luke meets up with Scarlett, who he's still married to, in The Folly
But fiery Scarlett is no pushover an demands that either Luke cough up a large sum of money or she'll wreck his wedding by turning up and announcing he's not only a bigamist but the father of a teenage son. Yikes!
As Mandy makes her way to Nightingales where the ceremony is taking place, Scarlett is lurking in the wings
When Luke's best man, Darren spots Scarlett he panics and wonders whether he should stop Mandy from walking down the aisle!
Meanwhile an oblivious Mandy is looking forward to finally marrying the love of her life
If only she knew the truth!
As guests Darren and Nancy look on, is the ceremony going to go ahead or is Scarlett about to derail things in spectacular style?
We think it's safe to say bride and groom, Luke and Mandy are not going to be smiling for very long! Watch all the drama unfold on Hollyoaks from Monday 22 Jan on Channel 4
Get the latest updates, reviews and unmissable series to watch and more!
Thank you for signing up to Whattowatch. You will receive a verification email shortly.
There was a problem. Please refresh the page and try again.