Peace talks turn violent between Sonia and Lisa!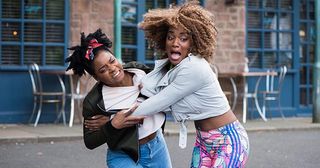 As Sonia and Lisa Loveday attempt to talk through their issues, a catfight breaks out in Hollyoaks!
A row ends up in a full-on fight as Lisa Loveday and Sonia attempt a conversation in Hollyoaks. But it's Lisa who comes off worse as Sonia hurls her to the ground. Sonia then decides she must make her exit from the village to allow the Lovedays to grow as a family.
But Sonia's decision to go hits mum Simone Loveday hard. After failing to bond with Lisa, who went missing after being snatched from school as a child, Simone tells Lisa she wishes Sonia – who masqueraded as Lisa before the 'real Lisa' returned to Hollyoaks - was her real biological daughter...
Things turn violent between Sonia and Lisa
Lisa and Sonia have a frank exchange of opinions in the village
Lisa wants Sonia gone from the Lovedays' lives. But is that what the rest of the family want?
As tempers flare during their chat, Sonia hurls Lisa to the ground!
Lisa finishes up getting the worst of the argument.
Having been shoved by Sonia, Lisa is humiliated and sprawled on the ground. What will Sonia do next? Watch Hollyoaks on Channel 4 from Monday, October 24
Get the latest updates, reviews and unmissable series to watch and more!
Thank you for signing up to Whattowatch. You will receive a verification email shortly.
There was a problem. Please refresh the page and try again.