Tensions flare big time as Maxine returns to Hollyoaks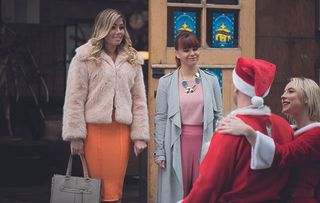 When Maxine returns to the village, Darcy is soon stirring the pot...
After jetting off to America in September, this week Maxine returns leaving her rival Darcy feeling once again threatened.
Darcy can't help making a big show of how loved-up she and Adam are in front of her. The pair who are both dressed up in their festive finest, are kissing and hugging and Darcy hits Maxine where it hurts most by announcing that she and Adam are trying for a baby.
While Adam remains suspiciously quiet about Maxine's arrival, his dad Glenn is immediately seeing how he can use it to his advantage.
He's desperate to split up Adam and scheming Darcy and wants his son back with Maxine. As he comes up with an idea, will his plan work?
Maxine returns to Chester and bumps into her ex, Adam, and his other half, Darcy. But it's not long before tensions are flaring...
Scheming Darcy is keen to show just how loved-up she and Adam are and starts being playful infront of Maxine.
As she flirts outrageously with Adam she wants to prove he's totally off limits to her love rival.
Deciding to hit Maxine where it hurts, she announces that she and Adam are trying for a baby together! Which is news for Adam who struggles to hide his shock!
A wounded Maxine manages to keep her composure but later on she's stunned when she makes a discovery about Darcy that could shatter her relationship with Adam. What has Maxine discovered and is she about to fill Adam in? Watch Hollyoaks on C4 from Monday 4th December
Get the latest updates, reviews and unmissable series to watch and more!
Thank you for signing up to Whattowatch. You will receive a verification email shortly.
There was a problem. Please refresh the page and try again.