A River Boy reveals all! We chat to Steve Peacocke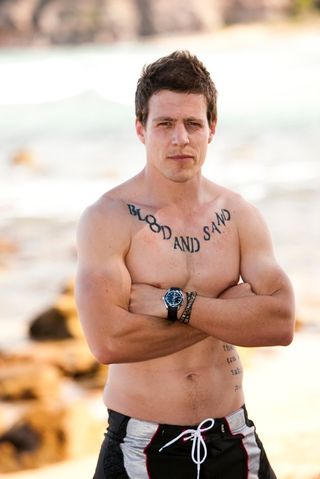 Home and Away star Steve Peacocke (Darryl 'Brax' Braxton) talks tattoos, the River Boys and what's next for his character after THAT shock shooting... The River Boys have been massively popular since they arrived last year. What sort of feedback do you get via fan-mail and people on the street? "The feedback has been really good, which is more of a pat on the back to the producers and writers. People really seem to respond to the 'old school' ways of The River Boys. Particularly Brax. They don't get too mushy and just get on with the job!" Tell us about Brax's tattoos - are any of them really yours? "No. My mum and girlfriend would never forgive me! It's testament to our awesome make-up department that I keep getting asked that question." Brax is meant to be a champion surfer. How are your own surfing skills? "My surfing skills are certainly not as good as Brax's. I didn't grow up with surfing. I was more into jumping out of trees into the Macquarie River in New South Wales!" We noticed when Channel 5's Bay Reporter, Joanna visited the set that it isn't always sunny in Summer Bay. Is it ever tough having to film scenes in your surf shorts while the wind is howling?! "It's mildly uncomfortable, but very, very bearable. Every time I do a scene when the weather conditions aren't favourable, I always remind myself that there's some bloke somewhere doing something way harder than this! I am so lucky to have a job I love so much." In the latest UK episodes, Brax has been left devastated by the death of his copper girlfriend, Charlie. What's lies ahead for Brax in the aftermath? "Brax is going to be challenged in ways we haven't seen before, and he definitely finds himself in painful territory, both physically and emotionally. The audience can expect to see why he's got that reputation and just how volatile and flawed he is." What's your relationship like with your on-screen brothers Heath (Dan Ewing) and Casey (Lincoln Younes)? "We are all good mates. We love working together and like going for a beer together when we can." Dan Ewing, Axle Whitehead (Liam) and Lisa Gormely (Bianca) all popped over to the UK a while ago. Any chance your British fans will get a chance to see you over here sometime? "I would love to come over! I've never been to the UK before, so I'd jump at the chance. Knowing that the show is so well received over there would make it even better." You have a pretty busy filming schedule. So what's your idea of a great day off? "Going for a big run at sunrise. Then driving out of Sydney to a national park on the coast. Or into the Blue Mountains for a look around with my girlfriend..."
Get the latest updates, reviews and unmissable series to watch and more!
Thank you for signing up to Whattowatch. You will receive a verification email shortly.
There was a problem. Please refresh the page and try again.