Alf plots to get Mick out of Summer Bay for good in Home and Away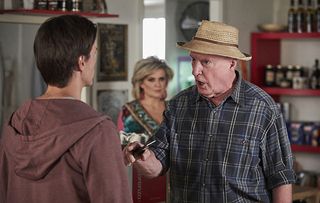 Alf wants Mick gone and finds him a new job in Western Australia, but is Irene's son really about to pack his bags?
Alf wants Mick out of Summer Bay and thinks he's come up with the perfect solution when he gets a mate of his to offer Irene's son a new job in Western Australia.
Irene urges her son to grab the opportunity but it seems Mick has got other ideas and things turn ugly when he does a U-turn and makes off with his son Luca!
Elsewhere the Astoni family get a big shock when Maggie's mum Diana shows up on their doorstep. It's not long before old resentments resurface and tensions mount as Diana delivers some home truths. What has brought her here and will she be sticking around?
[check out the latest Home and Away storylines]
Meanwhile Ash and Tori share some quality time together but is Ash about to blow their relationship apart when a testing situation sees him lose his temper and lash out? It certainly looks that way....uh oh!
Alf plots to get Mick out of Summer Bay for good in Home and Away
Alf plots to get Mick out of Summer Bay for good in Home and Away
Alf tells him he's found him a mining job in Western Australia and he needs to go as soon as possible, however Mick has other ideas
Later on Alf gets chatting to a new arrival in Summer Bay: Maggie's mum, Diana
Maggie gets quite a shock to come face to face with her mum but Diana's concerned when Alf tips her off that all is not well with Maggie and her family
Diana demands to know what's been going on and it's not long before old tensions between mother and daughter are opened up
As the Astonis try and pretend everything is fine, Diana reveals she knows that Ben was arrested for assault and that it was her who stumped up the cash for his bail!
Ben is simmering to learn that they are now indebted to Maggie's controlling mother. But it's not long before more secrets and lies emerge as Diana learns that Maggie's struggling with PTSD, Ben is hardly working and Coco is battling an eating disorder!
Meanwhile Mick calls Alf's contact about the job
But his mind is on other things and as he watches Irene and Leah with his baby son, Luca, he suddenly has a change of plan. What is Mick about to do?
Tori and Ash enjoy a peaceful walk along the beach
The pair share a tender kiss and are glad that soon Mick will be out of their lives once and for all....or so they think
However Tori is concerned when she spots Mason out kayaking. Her brother has been spending a lot of time alone and not been sleeping properly.
Tori runs over to chat to her brother but will he open up about exactly what is troubling him? Watch Home and Away on Channel 5 from Monday 8 Jan
Get the latest updates, reviews and unmissable series to watch and more!
Thank you for signing up to Whattowatch. You will receive a verification email shortly.
There was a problem. Please refresh the page and try again.