Ash is left in hospital after bad beating by evil drug-dealer Zannis!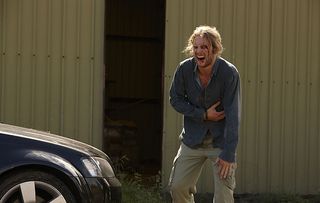 Ash tracks down Zannis but the drug-dealer beats him up as a warning for Kat and co to steer clear
After Kat confirms Zannis was behind the car crash which has left Mason Morgan fighting for his life, Tori Morgan is furious. The doctor angrily accuses copper Kat of not doing her job properly. When Ash steps in, vowing to help Kat track down Zannis, his policewoman girlfriend insists he keeps out of it. But Ash won't.
Ash soon locates Zannis - but the drug dealer is one step ahead. He and his heavies dish out a vicious beating, wanting Kat and co to see what happens to those who meddle, before going on to slash Ash's tyres! When the thugs vanish, injured Ash calls Justin. In hospital, Ash is given an ultimatum by angry and jealous Kat, who accuses him of undermining her orders so he could help damsel in distress, Tori… There's nothing like a bit of sympathy, eh Ash?
Ash is given a beating by drug-dealer Zannis and his heavies.
Ash is given a beating by drug-dealer Zannis and his heavies.
Determined to find Zannis, who has put Mason Morgan's life on the line, Ash is on a mission.
But Zannis is one step ahead of Ash…
Zannis wants Kat and co to learn a lesson and keep out their sticky beaks out of his business.
Ash is given a beating to show Kat what could happen if she carries on investigating him.
Having been beaten to a pulp, Ash tries to drive away only to find his tyres have been slashed.
In agony, Ash calls for help.
Justin is shocked by the terrible state Ash is in when he arrives on the scene.
Justin takes Ash to hospital - but there's more trouble to come when jealous Kat finds out her boyfriend Ash has interfered in the case for Tori's sake… Watch Home and Away on C5 from Monday 11 September.
Get the What to Watch Newsletter
The latest updates, reviews and unmissable series to watch and more!