Fight! Ash Ashford flips when Robbo returns to the Bay having been released on bail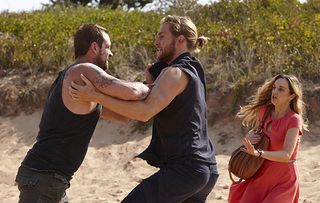 Ash lays into Robbo who is back in the Bay having been released on bail
Tori's got her hands full with Robbo and Ash (again). When Ash sees he's back in the Bay he's furious with Tori for helping Robbo's case. A fight kicks off - but how will it end?
Mason starts growing closer to Jasmine when she lands a job in the ER.
Willow reels to learn Justin has a daughter when his ex appears and brings Ava with her. Willow's got further stress to deal with when Dean is rushed to hospital after convulsing following a confrontation with Colby.
As Coco lands a date with Ryder, the Astonis get in on the act.
Ash explodes when he sees Robbo is back in the Bay having been released on bail…
Ash explodes when he sees Robbo is back in the Bay having been released on bail…
Tori's input has helped Robbo get bail.
But he's furious about it and feels he should be banged up and paying his dues.
When Ash clocks Robbo, he lets rip!
Ash is furious with Tori for helping Robbo.
Jasmine tells Mason she has landed a nursing job in the ER!
There's a connection between Jasmine and Mason.
Out of the blue, Justin's ex Nina arrives with their daughter Ava.
Nina plans to leave Ava with Justin for a while.
Justin hasn't told Willow about his ex Nina - or their child!
Willow clocks the heated exchange and is worried.
Dean and Colby clash down at the beach.
Willow tries to calm down Dean.
Dean ends up in hospital after his confrontation with Colby. Why was he convulsing?
Mason checks on Dean…
Will Dean respond to treatment?
In the Diner, Mason opens up to Jasmine and shares his heartbreak over Beth.
At the Astonis' place, the joke is on Coco…
But she's not too pleased with Ziggy for sharing her secret about her romance with Ryder with their whole family!
Olivia and Hunter try to become friends. But is he really over her? Watch Home and Away on C5 from Monday 23 April.
Thank you for signing up to Whattowatch. You will receive a verification email shortly.
There was a problem. Please refresh the page and try again.