Ash wins custody of baby Luc!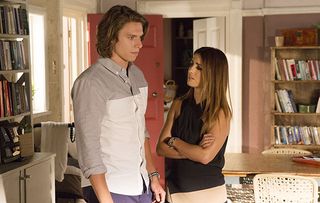 The battle for custody of baby Luc leaves VJ, Leah and Irene reeling as Ash wins out.
Since Billie died, the thorny issue of raising her newborn baby has caused problem after problem. Her grieving husband VJ has tried his hardest to care for Luc but interrupted sleep and the need to study has made parenting really hard. Irene, Ash and Leah have tried to make it work by sharing childcare but the rows about the baby have been endless.
It's now crunch time. Luc's grandma Irene has applied for custody as has Ash, Luc's uncle. Though Billie wanted VJ to raise her baby, will a mediator agree he's the best person?
VJ is stressed-out as a mediation session over Luc's custody looms.
VJ is stressed-out as a mediation session over Luc's custody looms.
His mum Leah tries to allay his fears that he will lose custody of his late wife Billie's baby.
At the mediation session, Leah makes a strong case for her to continue to help VJ raise baby Luc.
VJ is mortified when he admits he once shook Luc's cot in frustration.
The mediation soon turns heated as insults and slurs are thrown.
Irene leaves everyone stunned when she announces she'd make a better job of caring for Luc than Leah and VJ.
The mediator calls a halt to the meeting as it becomes clear an equitable solution won't be reached.
As the case for Luc's custody is passed over to the courts, the group is left stunned when Ash is later granted interim custody of Luc. How will VJ react? Watch Home and Away from Monday 29 May on C5.
Get the latest updates, reviews and unmissable series to watch and more!
Thank you for signing up to Whattowatch. You will receive a verification email shortly.
There was a problem. Please refresh the page and try again.