CRASH! Brody Morgan causes an accident which leaves Mason in a coma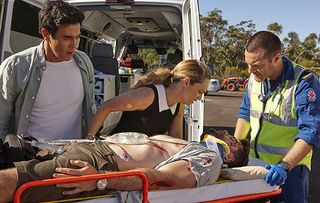 Brody is on his way to an NA meeting with his brother Mason when their car crashes as the addled chef believes dealer Zannis is following them
Brody Morgan is struggling to get clean and his recovery isn't helped when he learns dealer Zannis has been released on bail in Home and Away.
Although Kat assures him there are measures in place to keep Brody and his family safe, the strung-out chef isn't convinced that Zannis will leave him alone and is worried he knows Brody landed him in jail.
As Mason realises his brother is about to relapse into taking drugs, he convinces him to attend an NA meeting. But on their way there, Brody loses it, thinking Zannis is following them, and causes the car to crash. Brody's injuries end up being superficial, but Mason's are serious. Brody feels terrible as his youngest brother is put into an induced coma…
Will anyone believe Brody when he reports he saw Zannis following him?
Brody is badly injured during a car crash…
Brody is badly injured during a car crash…
Mason has persuaded his addict brother Brody to go to an NA meeting. But as they they drive to a meeting, dealer Zannis is on their tail.
Brody swerved the car, thinking Zannis was behind him, and is out cold.
Panicking, Mason ignores his own pain as he calls for help.
Justin is one of the first to arrive on the scene…
Justin helps the paramedic team put his unconscious brother Brody into an ambulance.
Tori tends to her brother, terrified that Brody's head injury could be really serious.
As Tori battles to help her older brother, there's fresh hell waiting round the corner as Mason takes a turn for the worse… Will the two Morgan brothers survive? Watch Home and Away on C5 from Monday 28 August.
Get the latest updates, reviews and unmissable series to watch and more!
Thank you for signing up to Whattowatch. You will receive a verification email shortly.
There was a problem. Please refresh the page and try again.