Who is Summer Bay's mystery man?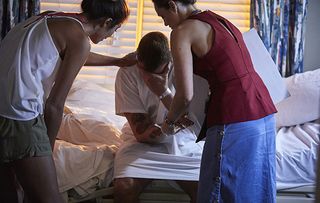 After Alf is held at knifepoint by the Bay's mystery man, Kat tries to solve the deranged stranger's identity crisis…
Having been attacked in the bush by a stranger, Alf is horrified when he comes face-to-face with the perpetrator of the crime! The man's been hiding out on Scarlett's boat and has got a bunch of Alf's things, including his pocket knife…
All too soon Alf finds him in another nightmare with the stalker stranger who holds the OAP at knifepoint, wanting answers. Alf is confused - and so is the man, who it turns out has no idea who he is.
As copper Kat gets involved in the saga and saves Alf's skin, will she go on to find out who this guy is?
Kat and Tori try to get answers from the mystery man…
Kat and Tori try to get answers from the mystery man…
Having attacked Alf and then held him at knife point, the Bay's mystery man is in hospital…
Tori tries to get answers out of the man who seems to have no idea who he is or why he is in Summer Bay.
Tori gets to work, running tests on the confused stranger…
The man flips when Tori reveals the test she's run have shown no brain abnormalities… So why has the man got zero memory?
At the police station, Tori talks to Kat. The man seems to recognise the copper.
Kat has no recollection of ever having met the man before. Who is he? As the saga unfolds, Kat and Tori's row over Ash rages. Where does Ash's heart really lie? Who is the mystery man? Watch Home and Away on C5 from Monday 4 September.
Get the latest updates, reviews and unmissable series to watch and more!
Thank you for signing up to Whattowatch. You will receive a verification email shortly.
There was a problem. Please refresh the page and try again.